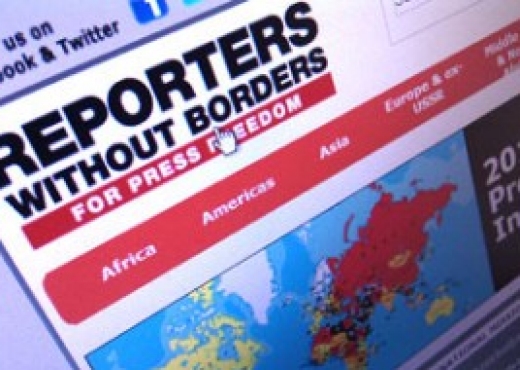 Skopje, February 12, 2014/Independent Balkan News Agency
By Naser Pajaziti
Former Yugoslav Republic of Macedonia is last on the list of Balkan countries as far as freedom of media is concerned.
This was confirmed by a report published today (12.02) by "Reporters without borders", where the country is last in the region and in the list of countries where the situation of the media is serious. Montenegro and Turkey are in the same group, while Russia, Belarus, Ukraine, Afghanistan, etc, have the lowest freedom of media on a world level.
"Reporters without borders", a Paris based organization, publishes every year the index of the level of freedom and information in 180 countries of the world.
In this report, FYR Macedonia fell 6 places as opposed to last year's report. Now, the country ranks 123rd, as opposed to 117th last year.
The report stresses that although FYR Macedonia is undertaking reforms in line with the recommendations of EU, the situation with the freedom of the media is concerning.
The report mentions the arrest of journalist Tomislav Kezharovski, who has been placed under house arrest and who has been sentenced to 4 and a half years in prison for leaking out information about a witness under protection. "Journalists without borders" also mention the case of journalist Zoran Bozhinovski, who has been arrested in Serbia, following an arrest warrant on charges of espionage, as part of the "Spy" name coded operation. This operation led to the arrest of a number of journalists, former secret services agents and other state officials who were alleged of espionage.
Bozhinovski  is also considered to be as "Macedonian Julian Asange". He has allegedly reported in several occasions to Sasho Mijalkov, the head of secret services DSK and the latter has family ties with prime minister Nikola Gruevski.
Turkey follows FYR Macedonia on the 154th place, while Montenegro is on the 114th place. Albania ranked 85th, Kosovo ranked 80th, Bosnia ranked 66th, Serbia ranked 54, are better placed than FYR Macedonia. Meanwhile, Slovenia has been better rated on the 34th place. /ibna/