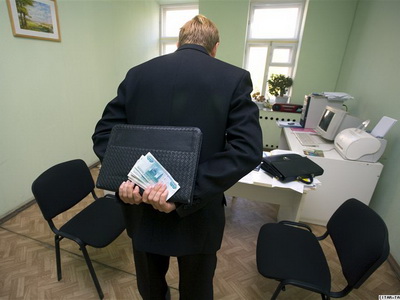 By Maja Tuljković – Sarajevo
The street action called "Resistant to corruption, (anti) corruption in B&H society" was held today in Sarajevo. The street action was organized by Foundation Cure in cooperation with Anti-corruption network of civil society organizations in B&H ACCOUNT. The reason for this action is the report "Business, corruption and crime in B&H: The impact of bribery and other criminal activities in the private enterprise", based on the interviews conducted by UN office on fight against drugs and crime (UNODC) with 2000 representatives of companies.
The report revealed what already B&H knows, which is that corruption and other types of crime are the major obstacles for private enterprise and have negative effects on private investments in B&H. Corruption in B&H every second "takes away" 25 BAM and 20 percent of citizens of B&H has gave bribes, while the average amount of bribes per person is 220 BAM. The main reasons of bribery in B&H are to avoid paying punishments (25 percent), to accelerate procedures (25 percent), while the most of bribes are given to the heath service personnel and to police.
Today's action was joined by the Federal Minister of Education and Science, Damir Mašić, who talked with citizens about corruption and the fight against corruption. He specifically referred to yesterday's arrest of a representative of the Federal parliament who is suspected of taking bribes from one person, in the amount of 20.000 BAM, and has to do with solving working status and employment.
"Citizens must be brave in reporting corruption because this is the only way to contribute to the fight against corruption in society. Anonymous reports are not as effective as reports with full name and surname. Two people were arrested yesterday thanks to a lady that reported corruption, stated Minister Mašić, adding that he believes in the justice system of Bosnia and Herzegovina and prosecution authorities, but in this country the most needed are courageous citizens.
Regarding to corruption in education, Mašić invited students and parents to report all forms of corruption that they face. He added that as a public official and as a citizen has always been and will remain resistant to corruption.
The organizers of today's action emphasized that yesterday's arrest is an example of how anti-corruption activities have results. Corruption is something over what we can have an impact, but is necessary to start with ourselves and to understand what corruption is doing to us. Yesterday's action of SIPA has shown that Bosnia and Herzegovina has mechanisms to cope with corruption, and it is important to inform the public to react on corruption, to raise their awareness and to encourage civic society.
The network ACCOUNT will systematically operate to fight corruption in Bosnia and Herzegovina in the future period. With advocacy and concrete actions will make pressure on the B&H authorities at all levels to accelerate the anti-corruption reforms, which, after all, are obligations for the European integration process.