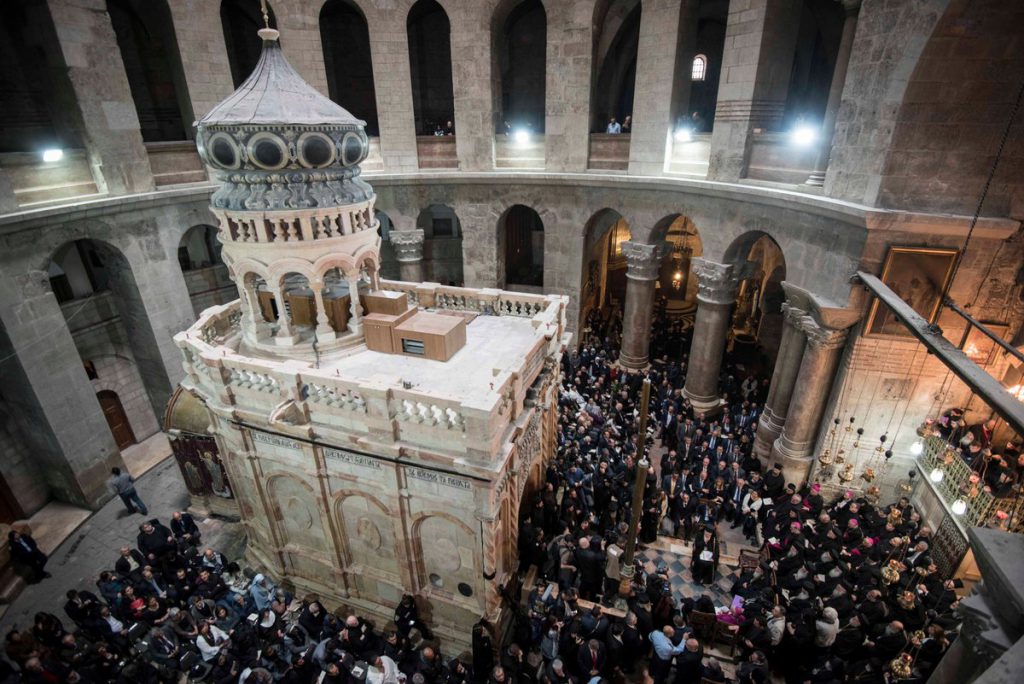 Ecumenical Patriarch Bartholomew, Greek Prime Minister Alexis Tsipras and many prominent clerics led by Jerusalem Patriarch Theophilos, were present during the delivery of the renovated sanctuary canopy of the Holy Sepulchre of Jesus in Jerusalem.
Besides its very important symbolism, the presence of the Greek PM affirms, yet again, the versatility and energy of Greek Foreign Policy.
The Sacred Canopy surrounding Jesus' tomb is located in the center of the circular Church of the Resurrection (Rotunda) which was founded together with a basilica in 336 AD from St. Helena in the area where Jesus martyred. This is an extremely important monument to Christianity and not only. The tomb of Jesus initially had the form of Jewish monuments that are carved in rock. This rock was leveled, and the building that enclosed it collapsed when the destruction of the Temple of the Resurrection by Al Hakim occured in 1009-1012 AD. With the restoration of the Temple under the rule of Constantine the Monomakh (1042-1048), a new structure was built around the Holy Sepulchre, which is characterized as the most sacred pilgrimage site of the Christian world.
The current external form of the Church of the Resurrection was constructed by the Crusaders (12th century) but internally it retains enough characteristics of the early Christian and post-Byzantine period. As it stands today, the form of the Holy canopy dates back to 1810 when after a fire the Church of the Resurrection was restored by architect Kalfas Comnenus of Mytilene.
For the restoration of this unique monument to Christianity but also for the world cultural heritage, about seven months of intensive and delicate work was required. The total cost of the project amounts to 4 million euros and was covered by a common fund to which all religious communities involved in the Holy Sepulchre contributed along with other donors. The restoration of the Holy canopy was undertaken by the National Technical University led by Professor Tonia Moropoulou. Over 50 Greek scientists also participated.
It is notable that even ensuring the unanimity of religious communities is a feat, considering that they are constantly, strongly at odds with each other for the distribution of rights of the Holy Sepulchre. It is characteristic that for this reason the restoration of the monument had been postponed several times in the past due to these disputes. Even the keys to the Tomb of Jesus are kept by a Muslim family as Christian groups never managed to agree which should be the key holder./ΙΒΝΑ
Photo: @PrimeministerGR