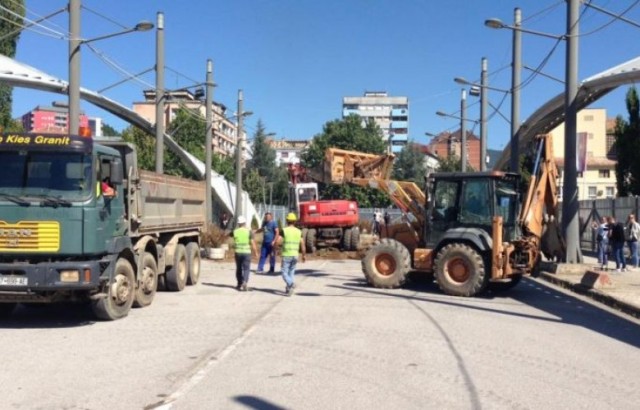 Pristina, 14 August 2016 /Independent Balkan News Agency
By Elton Tota
On Sunday, in Kosovo started the dismantle of barricade at main Ibar bridge which divides both sides of Mitrovica, at northern Kosovo inhabited by Serbian majority and in southern part whose residents are mostly Albanians, thus implementing the agreement brokered by European Union.
In accordance with the agreement reached during Kosovo-Serbia talks, EU will invest 1.2 million Euros for the bridge revival.
EU office in Pristina states that Ibar river will become a symbol of relation normalization between communities in Kosovo.
According to the statement of EU office in Kosovo: ""The bridge revival will significantly facilitate people contacts from northern Mitrovica, southern Mitrovica and beyond."
The Minister of Dialogue in Kosovo government, Edita Tahiri declared : "16 years after the end up of Kosovo war, Mitrovica  bridge will become a free connection bridge and as everywhere else in the world it will serve for the complete and free movement of people and vehicles as stipulated in Brussels agreement of August 25th 2015.
Kosovo Assembly Chairman, Kadri Veseli said that the bridge opening will serve to the future not to the past. "Ibar river revival in Mitrovica, although delayed, constitutes a positive step in the process function, which must be finalized with the full bridge opening.  The bridge must be returned to the city and to the life of Mitrovica citizens. It will serve to the future and not to the past" –he stressed.
It is planned for the bridge revival to be finished by January 2017.
The barricade on this bridge was the largest one, erected in July 2011, to oppose the intervention of Kosovo police special forces for the assertion of control over border checkpoints between Kosovo and Serbia in the north.
A member of Kosovo police was killed in an ambush in July 2011, while the violent clashes erupted at that time in the northern Kosovo, to prevent the assertion of Pristina authority in the area.
The removal of barricade at the main bridge occurs during a period of pressure increase over Belgrade to implement the agreements achieved in the talks for the normalization of relations between Kosovo and Serbia, brokered by European Community. /balkaneu.com/