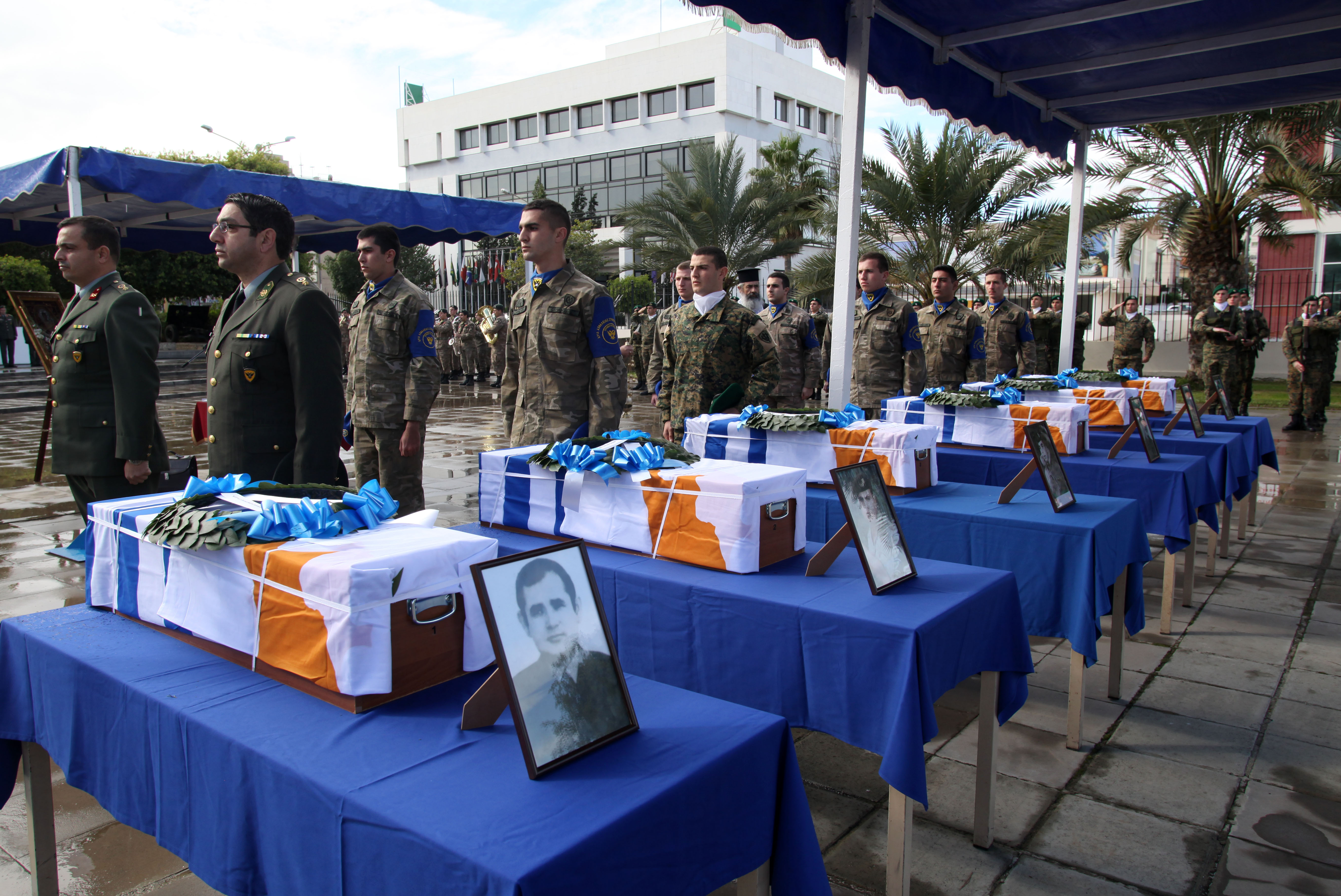 Athens, January 20, 2016/Independent Balkan News Agency
By Kyriacos Kyriacou
The remains of six Greek soldiers who were killed in Cyprus during the period of 1963 and 1967 and the 1974 Turkish invasion and were missing since then, returned to Greece on Tuesday after being identified with the DNA method.
In the Greek Ministry of Defence in Athens a special ceremony took place in the presence of the Ministers of Defence of Greece and Cyprus, Panos Kammenos and Christoforos Fokaides respectively, members of the Cypriot House Committee on Defence, members of the Greek political parties, as well as relatives and friends of the soldiers.
The Greek state, `with an inexcusable delay of many years` the Greek Minister said, honours today the six Greek soldiers with flags flying at half-mast.
The Cypriot Defence Minister said that "there is no worse time than this one, when a hero returns home dead, dead but immortal`.
"The 6 heroes we welcome today are now deleted from the list of the missing persons, and added to the list of heroes", he went on to say.
Wreaths were laid on behalf of the Greek Prime Minister Alexis Tsipras and the President of the Hellenic Parliament Nikos Voutsis.
Cyprus has been divided since 1974, when Turkey invaded and occupied its northern third. As a result of the invasion, 1,619 Greek Cypriots were listed as missing, most of whom soldiers or reservists, who were captured in the battlefield.
A Committee on Missing Persons (CMP) was established, upon agreement between the leaders of the two communities, with the scope of exhuming, identifying and returning the remains of missing persons to their relatives. According to CMP, the total number of identifications has reached 625, 476 of whom were Greek Cypriots and 149 Turkish Cypriots.
The CMP `s list includes a total of 77 Greek missing persons 73 of whom had gone missing since the 1974 Turkish invasion and 4 of them since the period 1963-`67. The remains of 14 of the 77 have already been identified through DNA testing.