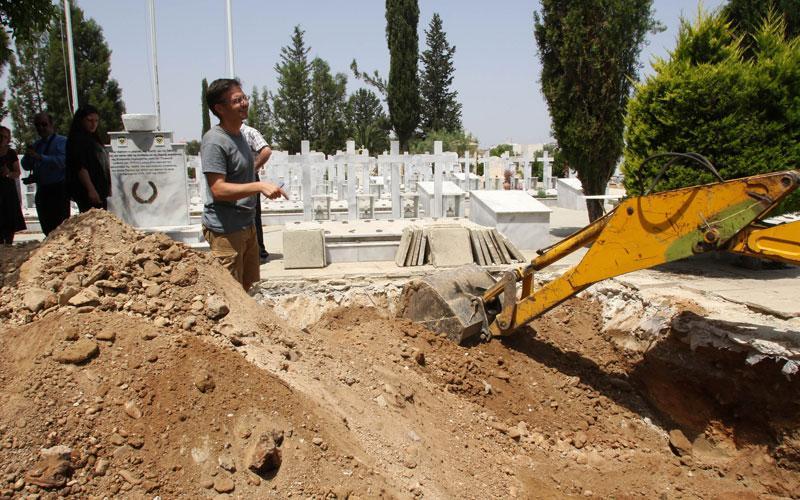 Nicosia, April 4, 2016/Independent Balkan News Agency
By Kyriacos Kyriacou
Cyprus Commissioner for Humanitarian Issues Fotis Fotiou announced on Monday that the remains of 15 persons have been identified during excavations at the site where Greek warplane `Noratlas`, carrying commandos from Crete, was downed by friendly fire in July 1974 on the outskirts of Nicosia.
He also said that the remains of two persons who were wrongly given to relatives of the Noratlas warplane have been returned.
Fotiou was speaking after a meeting with the President of the Board of the Cyprus Institute of Neurology and Genetics (CING), its Director General and the head of the Laboratory of Forensic Genetics of CING.
He told reporters that 15 persons have been identified and procedures are expected to be concluded within the next two weeks to allow for their repatriation and burial according to Cypriot customs and religion.
Noratlas was carrying 28 commandos and four pilots. One soldier, Thanasis Zafiriou, survived the crash. The remains of sixteen of these people had already been found in the past and were buried in a military cemetery in Nicosia.
Fotiou referred to the repatriation of two cases of remains that were wrongly given to relatives in Greece from Cyprus, noting in the past the remains of one person were returned and a further 13 cases are still pending.
He said that soon he will meet with Greek Alternate Minister of National Defence Dimitris Vitsas, and through a coordinated effort, they will approach families and hopefully persuade them to return the remains.
Fotiou thanked CING and its scientists for helping the Republic of Cyprus` efforts to solve this "humanitarian problem", noting that cooperation with the CING dates back many years.
He criticised Turkey for not fulfilling its obligations and responsibilities on this issue and by refusing to cooperate.
"Efforts to solve this humanitarian issue are at crucial stage, I would say at a crossroads with a clear risk to create problems in the CMP`s programme itself. The next two years are pivotal," he said.
Fotiou said that locating remains of Greek Cypriots in Cyprus' northern Turkish occupied areas as well as finding mass graves is becoming all the more difficult. He criticised the Turkish occupation forces for relocating remains, refusing to cooperate and point out sites of mass graves.
This situation, he said, is not only unacceptable but it is also inhuman. The missing persons issue is a humanitarian issue and not a political one, he indicated and the occupation forces` responsibilities are great.
The CING`s director General Leonidas Filaktou thanked Fotiou for his efforts to solve this "national issue", and assured that the Instituyte will continue supporting the Republic of Cyprus.
There are still 1.025 Greek Cypriots missing out of the registered 1.508.
Cyprus has been divided since 1974, when Turkey invaded and occupied its northern third. As a result of the invasion, many Greek Cypriots were listed as missing, most of whom soldiers or reservists, who were captured in the battlefield.
A Committee on Missing Persons (CMP) was established, upon agreement between the leaders of the two communities, with the scope of exhuming, identifying and returning the remains of missing persons to their relatives.