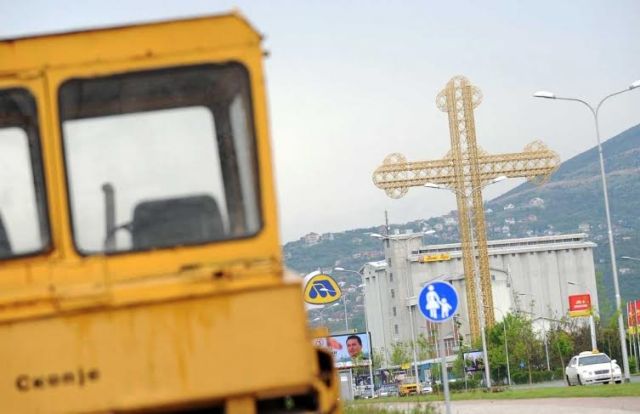 Skopje, 29 February 2016/Independent Balkan News Agency
By Naser Pajaziti
The placement of the foundation stone for the erection of a giant cross 50 meters high in the commune of Butel in Skopje has sparked political tension and different reactions.
The reactions relate to the fact that the cross is being placed in a roundabout at the entrance of this commune, an area inhabited by Macedonians, Albanians and other communities.
Present in the ceremony of the inauguration of the opening works were mayor of Skopje, Koce Trajanovski, ministers from VMRO-DPMNE party and other senior government officials.
But Albanian political parties have expressed their protest. Artan Grubi, BDI's MP has told IBNA that this cross will not be allowed because it doesn't respect the principle of consensus between councilors of different communities in the commune of Butel.
"The decision is anti-constitutional and sparks hate. We will take all legal measures not to allow this", Grubi said.
But sources from VMRO-DPMNE said that the incentive belongs to the Macedonian World Congress organization and that the cross doesn't pose and threats and doesn't aggravate anyone.
General secretary of SDSM, Oliver Spasovski who is also a minister of Interior in the interim government says that these incidents have a political background.
"We will not allow political interests to cause tension and cross ethnic conflicts. We will not allow for the interests of several politicians to serve as a cause for conflicts between the citizens of the country", Spasovski said on Sunday during his stay in Tetovo, a city dominated by the Albanian community. Other opposition parties maintained the same line of reaction.
Political analyst Ismet Ramadani told IBNA that the introduction of these symbols is being done to cause tension and cross ethnic and religious conflicts, in order to divert attention from the political and economic crisis and the corruptive affairs that the Special Prosecution has brought to light.
"I think that these are known scenarios, but I'm happy that both Macedonians and Albanians have realized that these are pure political scenarios for political benefits", Ramadani said.
Religious clerics have also reacted. Bishop Pimen of the Macedonian Orthodox Church says that eagles and cross are being placed in order to cause bloodshed.
"While in the world, commemoration monuments are placed as symbols to stop bloodshed, in our country eagles and crosses are placed to start insanity", bishop Pimen said.
A giant cross 50 meters high was placed in another commune, that of Aerodrom in Skopje, while two weeks ago, an eagle was placed in the commune of Cair, to commemorate the 2001 conflict and the war veterans of the former National Liberation Army. /ibna/