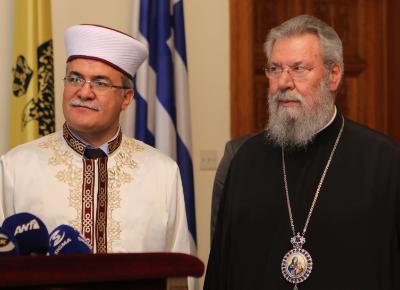 Nicosia,February 22, 2016/Independent Balkan News Agency
The religious leaders of Cyprus Archbishop Chrystostomos and Mufti Talip Atalay have been in touch since they heard of an arson attack on Sunday against a renovated mosque in Denia village and have categorically condemned it.
"The Religious Leaders of Cyprus and the Office of the Religious Track of the Cyprus Peace Process (RTCYPP) categorically condemn the arson attack against the recently renovated Mosque of Denia, in the Nicosia district," an office of the religious track of the Cyprus Peace Process press release says.
"H.B. Archbishop Chrysostomos II of the Church of Cyprus and H.E. Dr Talip Atalay, Mufti of Cyprus and are in contact with one another through the facilitation of the RTCYPP since they heard about the attack yesterday", it adds.
"Both leaders made and released their own respective statements strongly condemning this heinous act," the press release concludes.
Source: CNA