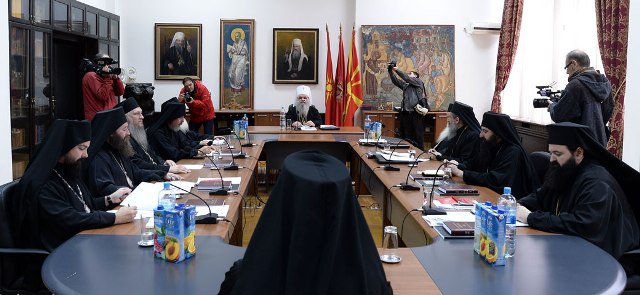 IBNA Special Report
Skopje, November 21, 2014/Independent Balkan News Agency
By Naser Pajaziti
Debates have been going on for years in FYROM about the large number of religious clerics who have worked and collaborated with secret services in the past. This topic has been once again brought to the attention as the Macedonian Orthodox Church (MOC) has demanded a lustration process to take place within the ranks of religious clerics, in order to clean their temples from people who have damaged the image of religion and who have collaborated with secret services during the socialist system in former Yugoslavia.
Lustration Law in FYROM excludes the lustration of religious clerics.
Clerics were included in the first version of the bill drafted by the government, but the Constitutional Court quashed this version of the bill.
In this week's meeting, heads of the Orthodox Church said that they're against the process of lustration for the clergy. The heads of the church have backed the proposal of signing a declaration by religious clerics that they have not collaborated with secret services.
Archbishop Petar declared that a proposal has been supported according to which the clergy must sign a declaration, to shed light who has cooperated with secret services. "Our objective is not to punish someone for what has been done in the past, but not to allow the image of the church to be ruined. All of those who result to be collaborators will have to leave the church, in spite of their position", declared archbishop Petar.
Islamic Religious Community (IRC) also expresses its readiness to become part of the lustration process.
"If one day this law will apply to us too, the respective committee will receive all the declarations signed by clerics who are part of IRC. Whoever makes false declarations will face the law. We're not thinking of protecting those who have damaged our national and religious causes and also our devoted people. IRC is in favor of this process", declared for IBNA the spokesman of this institution, Abaz Islami, who says that this is also the official positioning of IRC.
The head of the State Committee for Lustration, Tome Adziev says that in spite of the warnings in the public opinion, no incentive has been launched so far by religious communities.
"Once we receive such letter from officials of religious communities with names of the people who want to be lustrated, the committee will immediately verify them. This is the procedure. It's as simple as this", said Adziev.
During its five year work, Lustration Committee in FYROM has discovered and announced 124 people as collaborators of secret services in the past. A part of them have held offices at the Ministry of Interior in the past, but the majority have acted as spies. /ibna/