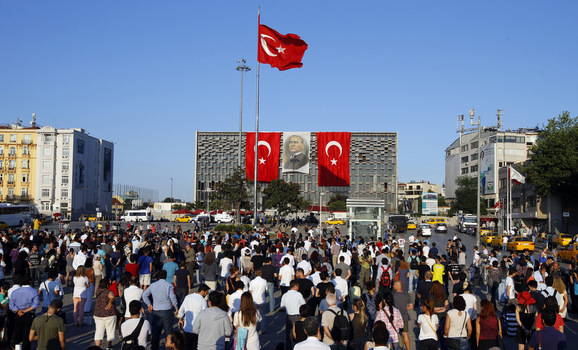 Review by Christos T. Panagopoulos –
Their grief is unprecedented. They lost their relatives back in the summer's anti-governmental protests at the Gezi Park and now all they ask is that Recep Tayyip Erdoğan's administration would stop violating human rights.
Zafer Cömert, brother of 22-year-old Abdullah Cömert, who was killed in Antakya on June 3, when a tear-gas canister hit his head, told the Hürriyet Daily News that the International Amnesty's report was important and fully condemned Erdoğan's government. However, he does not expect the report to put pressure on it.
"Amnesty International's call to ban the export of tear gas just hung in the air, as the government announced that it would start producing its own tear gas. The pressure on the government needs to be stronger and more convincing," said Cömert, adding that an official condemnation from Europe would be a more effective way.
He also said they would be going on a 15 day trip to various cities in Europe, together with the families of the Gezi Park victims. During the trip they will give a speech at the European Parliament in Strasbourg, attend forums, and also file an application to the European Court of Human Rights.
Sami Elvan, the father of 14-year-old Berkin Elvan, who has been in a coma since mid-June, after being struck by a tear gas capsule fired by police during protests in Istanbul, said that he hoped the government would act on the report's suggestions.
He said that what he wished for most was to find the person responsible for his son's current state.
"We want the people who murdered Berkin and his fellow brothers to serve the sentence that corresponds with their crimes … I am here to find the murderer of my son," he said.
Source: Hürriyet