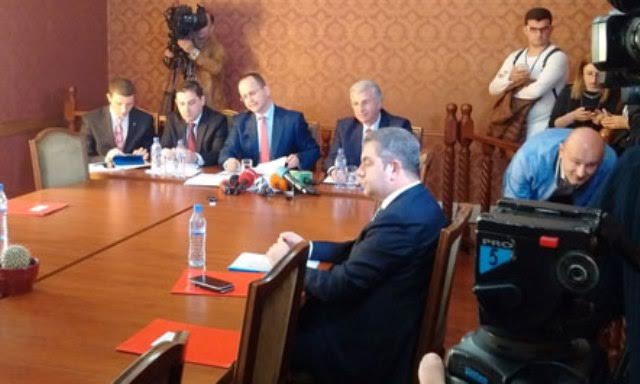 Tirana, 5 April 2016/Independent Balkan News Agency
Issues between Albania and Greece were at the focus of the Parliamentary Committee for Foreign Policy gathered on Tuesday (05.04).
In this special hearing (photo) with the minister of Foreign Affairs, Ditmir Bushati, the leader of PDIU (Party for Justice, Integration and Unity) Shpetim Idrizi asked him make his stance on the Tcham genocide public.
"As far as Bushati's stance on the Tcham issue is concerned, there is advancement. But Bushati's stance not to see this as a property issue, but a human rights issue is not fair. Why didn't you publicly articulate the Tcham genocide? Did you raise the request on the cemeteries of the Albanians of Tchameri?", Mr. Idrizi asked.
For Foreign Minister Bushati, the Tcham issue is closely linked with the abolition of the war law, which doesn't only have political effects, but also legal effects. "Our talks are focused on three domains. The first element is the war law, which has been enacted after Second World War. This would release the lacking positivity between the countries. The abolition of the war law would have not only political effects, but also legal effects, as it keeps the issue of the properties of the Albanians of Tchameri blocked. On this part, we have listed the Tcham issue on this part", Mr. Bushati said.
According to Bushati, the second element relates to the Greek minority in our country, where the Albanian side has guaranteed all the necessary conditions for it to be integrated and it demands the same thing from the Greek side.
Bushati also stopped on the issue of the maritime pack between Albania and Greece, where according to him, steps forward have been made in this direction and a possibility is being looked into finding a solution through talks with a new agreement on the sea.
"The spirit of trust is important and delicate. A long time is needed for agreements", Bushati said.
The socialist MP, Taulant Balla gave another character to the debate when he said that "the agreement on the sea is a national treason by former PM Sali Berisha". He even called on the Albanian prosecution to investigate. /ibna/