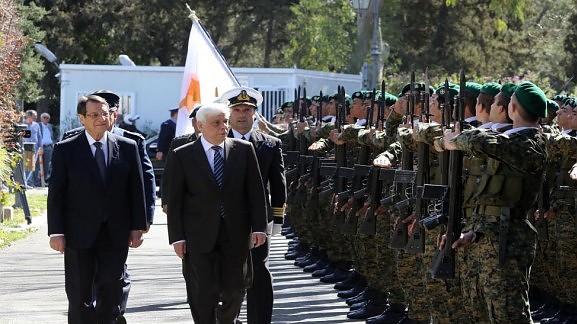 Nicosia, March 30, 2015/ Independent Balkan News Agency
By Kyriacos Penintaex
President of the Hellenic Republic Prokopis Pavlopoulos is in Cyprus since Monday morning for a two-day official visit, his first since assuming his duties.
Pavlopoulos, who is accompanied by Foreign Minister Nikos Kotzias and other diplomats, was welcomed at Larnaca airport by Foreign Minister Ioannis Kasoulides.
After an official welcoming ceremony which took place at the Presidential Palace Palvoploulos had a tete-à- tete meeting with Cyprus President Nicos Anastasiades followed by consultations between the delegations of the two countries and statements to the press.
"Relations become stronger"
After his meeting with Anastasiades Pavlopoulos said that relations between Greece and Cyprus become even stronger. He "feels here in Cyprus like home", noting that the more difficulties the two countries are facing the more their relations become stronger.
Welcoming the Greek President in Cyprus, Anastasiades wished him every luck in his new duties adding that he looks forward to strengthening even further their bilateral cooperation.
He stressed that the strong bonds between the two countries date back to ancient times, noting that they have common roots, common culture and language. He also expressed certainty that the Greek President`s presence in Cyprus will confirm once more the genuine interest of Greece for the people of Cyprus.
Replying, the Greek President said that the two countries share common problems, such as the Cyprus issue, but also common concerns as regards Europe. Cyprus and Greece, he pointed out, have an important role to play so that Europe rediscovers the principles and values on which it was founded and which have Greek roots.
Pointing out that EU countries must respect EU and Eurozone policies, he said that the EU was formed based on values and principles which we should not forget.
After their tete-à- tete meeting the two Presidents presided over consultations between the delegations of the two countries.
They are expected to make statements to the press shortly.
Later on, President Pavlopoulos will meet Archbishop Chrysostomos II and House of Representatives President Yiannakis Omirou.
In the afternoon he will address the plenary of the House of Representatives and will also have meetings with parliamentary political parties.
In the evening, the Greek President will attend a formal dinner hosted by President Anastasiades at the Presidential Palace.
On Tuesday, Pavlopoulos will visit the "Green Line" dividing the capital Nicosia in two, the northern Turkish occupied part and the government controlled area. He will be accompanied by Nicosia Mayor Constantinos Yiorkadjis.
Before departing, he will visit the Greek contingent camp in Malounda, based in Cyprus in line with the provisions of the 1960 Constitution which established the Republic of Cyprus.