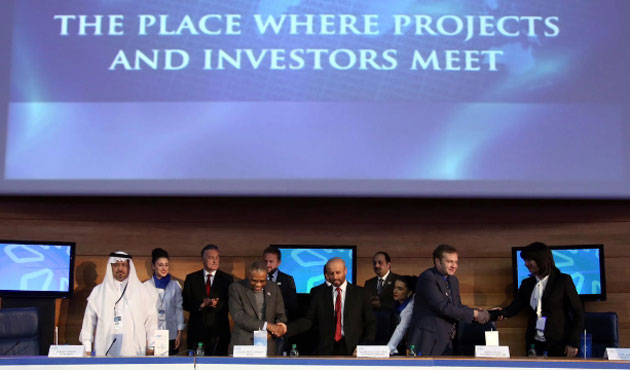 Sarajevo, May 13, 2015/ Independent Balkan News Agency
By Mladen Dragojlovic
"One region-One economy" is the motto of the 6th Sarajevo Business forum which started its works Wednesday in the BiH capital. The event was attended by many economists and high ranked politicians from various countries from region of Western Balkan, Turkey and Islamic countries.
What attracted more the attention of participants at first day of Forum was the arrival of Serbian Prime Minister, Aleksandar Vucic, who addressed the conference.
"I will always endeavor to improve cooperation with BiH. We accept the motto "One region-One economy" because it is clear that there is need for regional cooperation and I think that trade exchange between BiH and Serbia is very important. At same time, I think that we have the political conditions for cooperation", said Vucic in his speech.
He added that his arrival in Sarajevo is his wish to help in building of better future and not the result of pressure from the international community. Vucic emphasized that dialogue between Serbs and Bosniaks is important and that as "united markets" two countries can achieve much better results.
"This will create a change, and we need something to change the situation. I'm not here so that somebody can say that I was talking about reconciliation. I think that we have to take responsibility into our own hands and not allow others to make decisions on our behalf. Still, there are stupid people who believe that in 5 or 10 years with the use of violence they can flush out certain people from their homes, but it is naive to think so. For us, cooperation is necessary", Vucic stressed.
Turkey's Minister of Economy and Deputy PM, Ali Babacan, said that Forum has become a meeting point in the region and very important event for economy development.
"An important condition for economic development is the permanent flow of people, information and capital", Babacan said.
He added that economic links are an efficient way to prevent the conflicts, because, if conflict begins, businesspeople will be the first to will raise their voice and say that cooperation is better than conflict. Babacan also emphasized that fragmentation of regional economy and closure of borders has never yielded good results.
Chairman of  BiH Council of Ministers, Denis Zvizdic, called investors to invest in BiH because there are certain advantages for them.
"BiH has a good geostrategic position, quality workers and natural wealth. Council of ministers opted for reforms and creation of a strong economy. You will witness the creation of new BiH face", said Zvizdic.
He added that BiH haa a large energetic potential which is still underused, which means that there is a chance for investments in this sector. Also, as he said, that in BiH there is a good potential for development of agrotourism and agriculture, as well as the wood industry. Zvizdic also called investors to invest in building of Corridor 5c highway.
Sarajevo Business forum will continue its works on Thursday. The Conference is gathering businessmen and project owners from BiH, Albania, Croatia, FYR Macedonia, Montenegro, Serbia and Slovenia on one the hand and their counterparts from more than 30 countries worldwide on the other. During course of the Forum, participants will  hold presentations of business and investment opportunities in Energy, Infrastructure, Agriculture, IT, Tourism and other areas from those countries.