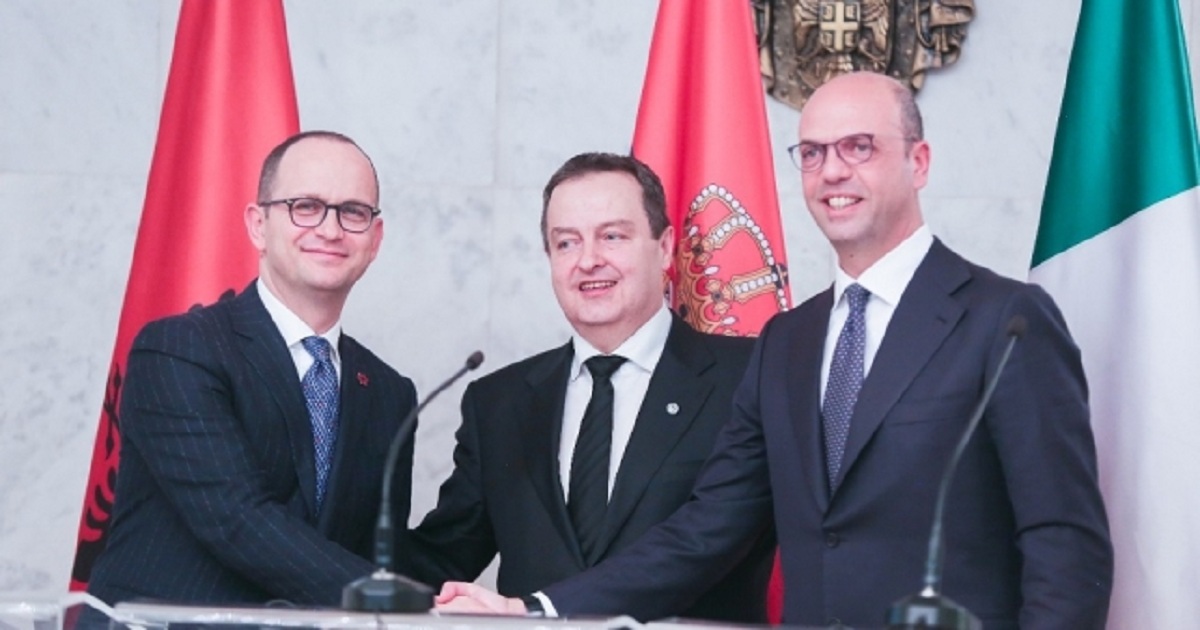 Albania's Minister for Europe and Foreign Affairs, Ditmir Bushati, attended the Third Meeting of Foreign Ministers of Albania, Italy and Serbia held in Belgrade under the auspices of First Deputy Prime Minister and Minister of Foreign Affairs Ivica Dacic.
During this meeting, the ministers discussed on the achievements of this initiative and future steps in the context of the dynamic  of our region's Europeanization. The discussions focused on the common approach of the countries of the region, based on Italy's advocacy for a revival of the EU's enlargement policy in the Western Balkans and the recently published European Commission Strategy as a document that emphasizes  the region's aspiration for integration.
"The trilateral agenda has contributed to the consolidation of political cooperation among our countries and has helped to build a new image that is based on regional cooperation and the implementation of EU policies and projects in the Balkans with Italy's and EU's direct support", emphasized Minister Bushati in his intervention.
The ministers stressed the growing joint efforts which are being made to implement the commitments made as part of the Berlin Process , particularly the roadmap that the Trieste Summit established for the creation of the Regional Economic Zone and the implementation of the infrastructure and energy liaison agenda.
During the meeting, the commitment and determination of our countries to maintain peace and security in the region was confirmed as a common objective of the Western Balkan countries, which should act as the basis for further strengthening security cooperation, overcoming divisions and narrow national interests.
Also, ministers agreed on extending Trilateral action even at sectoral level, through a periodic calendar of institutions and line agencies' meetings.
During his stay in Belgrade, Minister Bushati held a meeting with First Deputy Prime Minister and Minister of Foreign Affairs of the Republic of Serbia, Ivica Dacic.
As far as the process of normalization of relations between Kosovo and Serbia is concerned, Minister Bushati stressed Albania's determined support for the Dialogue with the EU mediation as the right instrument to achieve joint solutions on a number of important issues, which would benefit citizens of both countries. "This is the best investment that provides real opportunities for final reconciliation and the common European path," said Minister Bushati. He further demanded from the Serbian side the will and a determined political commitment concerning issues that include restrictions and constraints on the energy market, inclusiveness and membership in regional and international organizations.
Minister Bushati underlined the government's special interest for the Albanians of the Presevo region, demanding more attention and greater involvement in Serbia's social-economic life, as well as ensuring full rights. /balkaneu.com/