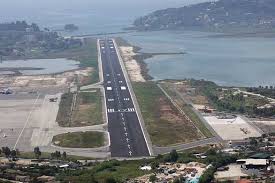 By Lefteris  Yallouros – Athens
The privatization of fourteen Greek regional airports has entered its final strait as private investors prepare to plough as much as EUR 250 million over four years in the airports.
Binding offers from potential investors have be handed to the Hellenic Republic Asset Development Fund (HRADF) and are set to open on Tuesday. Tenders have been submitted by the consortia Vinci Airports SAS-Aktor Concessions SA; Fraport AG-Slentel Ltd and Casa (Corporation America SA)-Metka SA.
The privatization concerns 14 regional airports that will be allocated to investors for 40 years in two groups. The first group includes the airports of Thessaloniki, Chania, Corfu, Zakynthos, Kefalonia, Preveza and Kavala, with an option for Alexandroupolis, Araxos, Kalamata and Nea Aghialos. The second group includes the airports of Rhodes, Kos, Skiathos, Mykonos, Santorini, Samos and Mytilene, with an option for Karpathos and Lemnos.
The privatization plan includes airports in some of Greece's most popular tourist islands, such as Rhodes, Corfu, Mykonos and Santorini. Greek airports handled about 19.2 million tourists last year.
Currently, all regional airports are state-owned without any corporate structure and supervised by the Hellenic Civil Aviation Authority (HCAA). They possess significant hidden value stemming from possible better use of airport infrastructure and from real estate and other commercial developments/activities that are now under-developed or under-utilised. Their upgrading would enhance Greece's tourist destination profile, the HRADF says.
Investors will have 20 months to upgrade and renovate existing facilities while new works and extensions will be completed within 48 months. Charges will reach EUR 14.5 per passenger until upgrades of current facilities are complete and won't exceed EUR 18.5 per passenger following completion (+ EUR 2.5 for security).
At airports with a heavy military presence such as those of Chania (Crete) and Aktio (Western Greece) only the civil aviation part (such as the main terminal, the flight corridors and car parks) will be turned over to private investors.