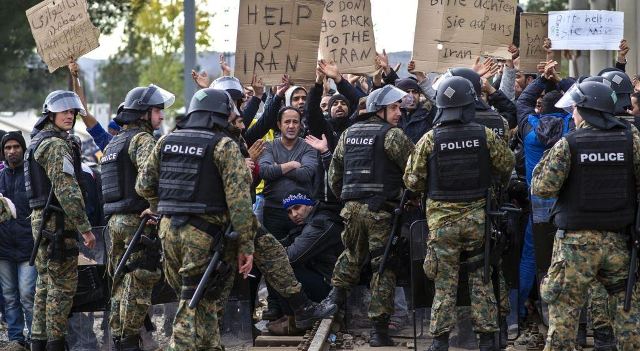 Skopje, 23 November 2015/Independent Balkan News Agency
By Naser Pajaziti
Around one thousand so called economic refugees are protesting in the Greek-Macedonian border, following the decision of the authorities in Skopje not to allow other refugees besides those from Syria, Afghanistan and Iraq to enter the country.
Protesters are mainly from other African and Asian countries such as Libya, Somalia, Morocco, Bangladesh, Iran and Pakistan, who were not allowed to enter the territory of FYROM, with the argument that they do not come from countries in crisis.
Three days ago, authorities in FYROM decided to select the entry of refugees and this has led to thousands of refugees to be blocked on the border with Greece. This decision followed Serbia's decision to do the same thing last week.
State authorities fear that this tense situation can deteriorate the situation of these refugees, who continue to remain in the border area.
President of the country, George Ivanov asked the European Union to help with this crisis, in order to cope with the influx of refugees. President Ivanov addressed this request to the president  of the European Council, Donald Tusk, who paid a short visit to Skopje.
The head of the European Council, Donald Tusk declared that this country is entitled to protect its border, the same as all other European countries. He said that FYROM must be aware that all countries included in the routes followed by refugees, need assistance from the EU.
President Ivanov transit centers have a capacity of only two thousand refugees and any growth of this number could increase direct threats and risks for the security of the country.
"In spite of the promises that have been made, Macedonia has not been given financial and technical assistance from the European Union, as far as the crisis of refugees is concerned. Although we demanded from the European Union equipment for the registration of refugees and monitoring of the state border, we didn't receive anything. Macedonia is spending its budget money to manage the crisis. For the needs of security services alone, so far we have spent over 10 million euros. We are coping with the lack of materials and technical capacities, in order to address threats and risks against national security", said Ivanov, who has traveled to Brussels to meet European senior officials on the refugee crisis.
Standing behind barbed wire fences alongside the border, many refugees have said that they will continue to wait on the border area, in order to make their way into FYROM and then the EU countries. Skopje, has imposed such restrictions, following Serbia's and Croatia's decisions  to return refugees who are not from Syria, Iraq or Afghanistan.
A serious situation also exists in the camp of Tabanoc in the border with Serbia, where capacities to accommodate a large number of refugees, especially in this period with rain and low temperatures.
Representatives of NGOs said that there's a lack of tends and other basics in order to cope with the numbers of refugees.
Once they arrive in Tabanoc, refugees continue their journey to Serbia. /ibna/