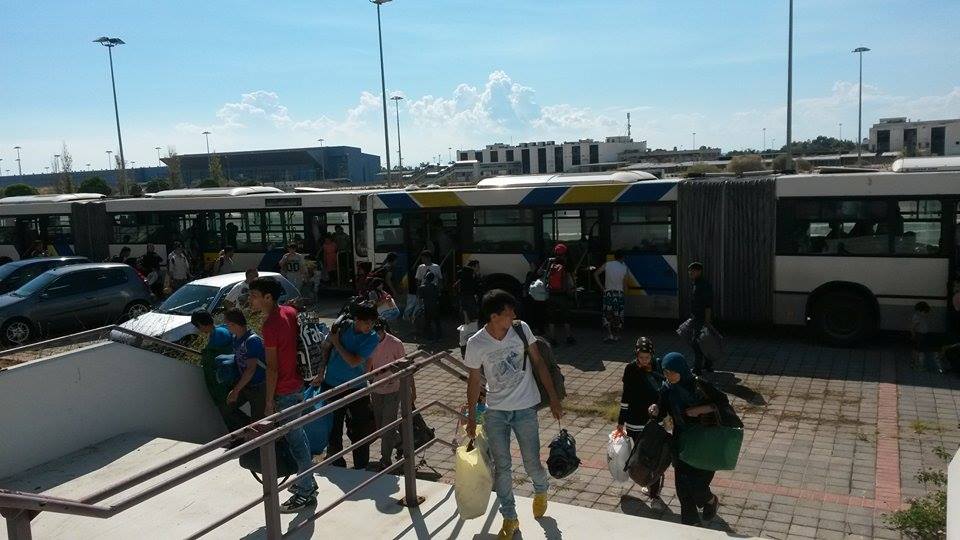 Police evacuated a total of 376 refugees and migrants from the former Elliniko airport in southern Athens on Friday, with the last busses leaving the former baseball and hockey fields.
Most of the refugees will head to a refugee camp in Thebes, while three families will be sent to Kavala. Migration Policy Minister Yiannis Mouzalas monitored the procedure and will then travel to Thebes.
"Today concludes a difficult operation which was crowned with absolute success. Proper information, the humanism of the police forces, and the right way of implementing the operation had this result. It is a result that honors Greece because it showed it respects international law and human rights and honors the Greek government," the Migration ministry's general secretary Yiannetos Filippakos said, adding there were minimal objections which were quickly addressed.
Asked why no journalists were allowed access to Elliniko, Filippakos argued that in an "operation plan, some rules have to be kept to protect the initial phase of the plan".
He also explained that police will continue to guard the area until municipal crews clean it up in order to deliver the venue to the company "Elliniko SA."
"They all left voluntarily from Elliniko without any problems," Police's Lieutenant General Zaharoula Tsirigoti, in charge of Aliens and Border Protection, told the Athens-Macedonian News Agency (ANA).
"It is indicative of the planning that everyone had a piece of paper with the particular container where they will be staying," she added.
Medecines sans Frontieres spokesperson, Rebecca Murray, told ANA that in the last year the organisation offered medical assistance to the refugees and expressed concern because "this evacuation procedure does not help us continue offering our medical services."
The head of the United Movement against Racism and Fascist Threat KEERFA told ANA that around 25 families living in the former airport opposed to their transfer to Thebes last night./ΙΒΝΑ