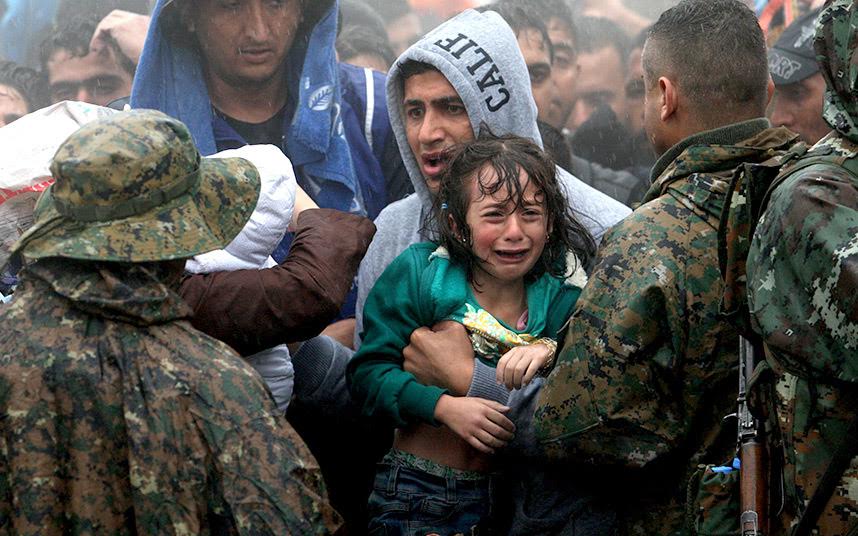 Skopje, 27 November 2015/Independent Balkan News Agency
By Naser Pajaziti
The situation with refugees in the southern border continues to be tense. Hundreds of refugees from Pakistan, Iran, Algeria, Morocco and other countries, have spent the night in the outdoors, as Macedonian police and army were not letting them into the country.
Authorities in Skopje continue to apply the decision to select refugees, by letting into the country only those refugees coming from Syria, Iraq and Afghanistan, which are considered countries in war.
But the situation became tense last night when refugees tried to force their way into the territory of the country. Police said that after the refugees crossed the barbed wire fence, they have attacked police with stones and then entered the territory of the country.
These were tens of refugees who entered the country illegally. In their hands, they had banners with messages "We want to go to Germany", "Open the borders" written on them. As a sign of revolt against these measures, a part of refugees have entered a hunger strike, they have sewed their mouth and have refused humanitarian aids.
Western diplomats in Skopje have expressed their concern in relation to the decision of the authorities in Skopje to close the border for a part of the refugees.
Minister of Interior, Oliver Spasovski said that authorities are carefully following the situation and that they will act in compliance with the measures to secure borders.
Human rights activist, Suad Misini told IBNA that this selection of refugees must be lifted as soon as possible.
"This decision is absurd and can lead to problems. There cannot be a selection of those who seek protection and those who have other plans. Those who plan on carrying out terrorist attacks use more sophisticated ways to move in the territory", declared Suad Misini.
Italian ambassador, Massimo Bellelli said that the decision to close the borders will reopen illegal routes of human trafficking.
"If the refugees cannot enter in one way the country, they will attempt another way. This will open up new routes for the entry of refugees in the territory of the country and the country would face a new problem, which would be much harder to handle. In terms of security, this action is justified, but if the situation persists, we may have more serious measures", the Italian ambassador declared.
Statistics of the Ministry of Interior indicate that from 4 to 6 thousand refugees from Syria, Afghanistan and Iraq are entering the country on a daily basis. Since June of this year, 300 thousand refugees have entered the country and only 70 of them have sought asylum. /ibna/