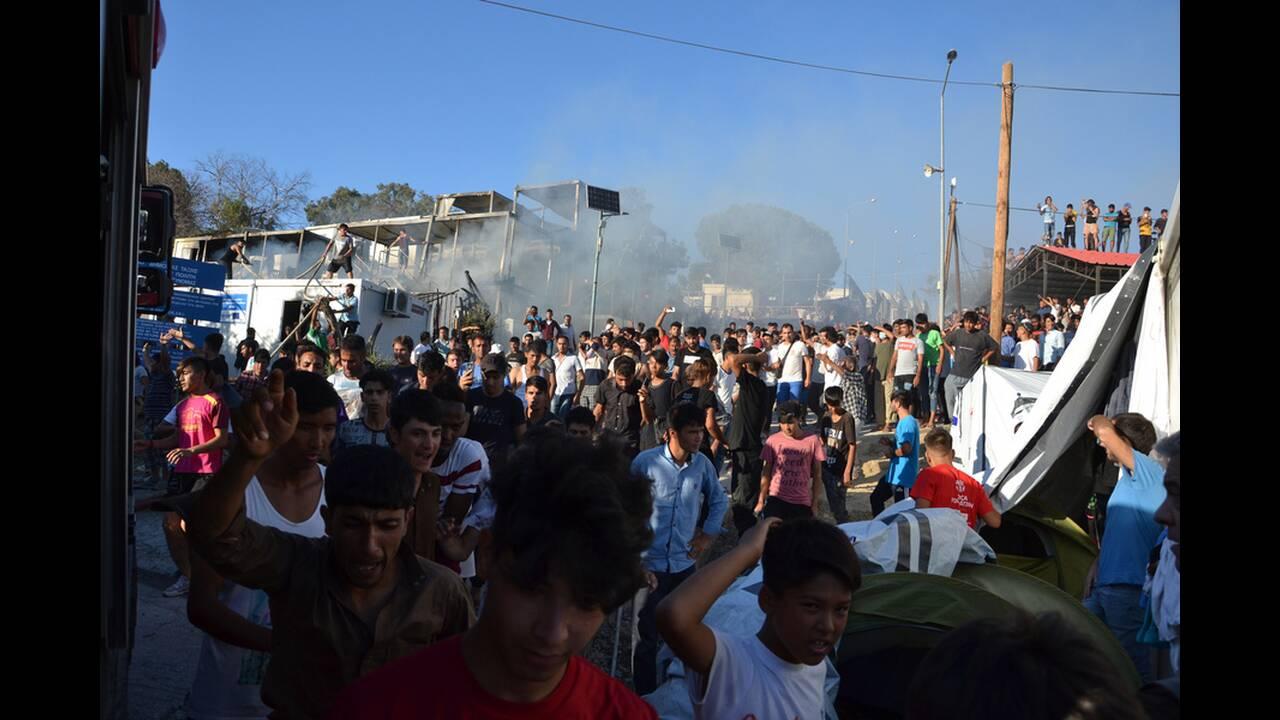 SYRIZA: The Government is the only one to blame – Mitarakis: possible incitement
The Government's clash with SYRIZA has gone through the roof in the wake of a refugee and migrant protest organized in Lesvos, that resulted in violent conflict and the police responding with teargas outside the Reception and Identification Center in Moria. During the fights, fires burst across Mytilene that were extinguished. These developments unfold just a few days after the controversy over the decision of the Mitsotakis Government to install a 2.7km-long floating barrier in Lesvos.
The main opposition speaks of complete lack of responsibility that embarrasses Greece abroad, with the competent minister leaving insinuations of a possible incitement. All this occurs while the situation on the islands, and especially in the Moria camp, keeps on getting worse, with the locals and the refugees residing there describing it as "jungle". "The Mitsotakis Government is the only one responsible for today's incidents. It has to restore the living conditions in the refugee centers and proceed to depressurize the islands", the main opposition official stated.
"The devastating images depicting MAT forces (Units for the Reinstatement of Order) attacking refugees who complained about living conditions using chemicals even against underage children, are the result of the total irresponsibility with which the Mitsotakis administration has been handling the refugee issue", SYRIZA notes in a statement, as pictures of small children being attacked with chemicals become viral around the world.
As SYRIZA points out, "The situation in Moria, but also in many other refugee centers, is literally tragic. Even after seven months of mistakes, unfortunately, at the expense of both refugees and immigrants as well as of local communities, while embarrassing the country internationally", going on to accuse the New Democracy Government of pushing the refugee issue towards a dead-end.
According to Alexis Tsipras' party, the Mitsotakis Government, instead of a plan, "continues to feed Greek society with far-right populism, ranging from tributaries such as floating barriers all the way to racism and xenophobia". They also point out that he should internationalize the issue and call on Europe to assume its responsibilities instead of "clearly stating that living conditions in the new centers-prisons they have under way will operate as a deterrent for refugees".
The Minister for Immigration and Asylum spoke of unpleasant events that "confirm the need to speed up asylum procedures, the return of asylum seekers and the operation of closed and controlled centers", stressing that abusive behavior "does not comply with the procedure of granting asylum". He went on to add that the Greek authorities are intensifying safeguard measures and are looking into "the possibility of such reactions being provoked". Commenting on the announcement by SYRIZA, he stressed: "Some might disagree, but let them know this: the policy has changed". /ibna