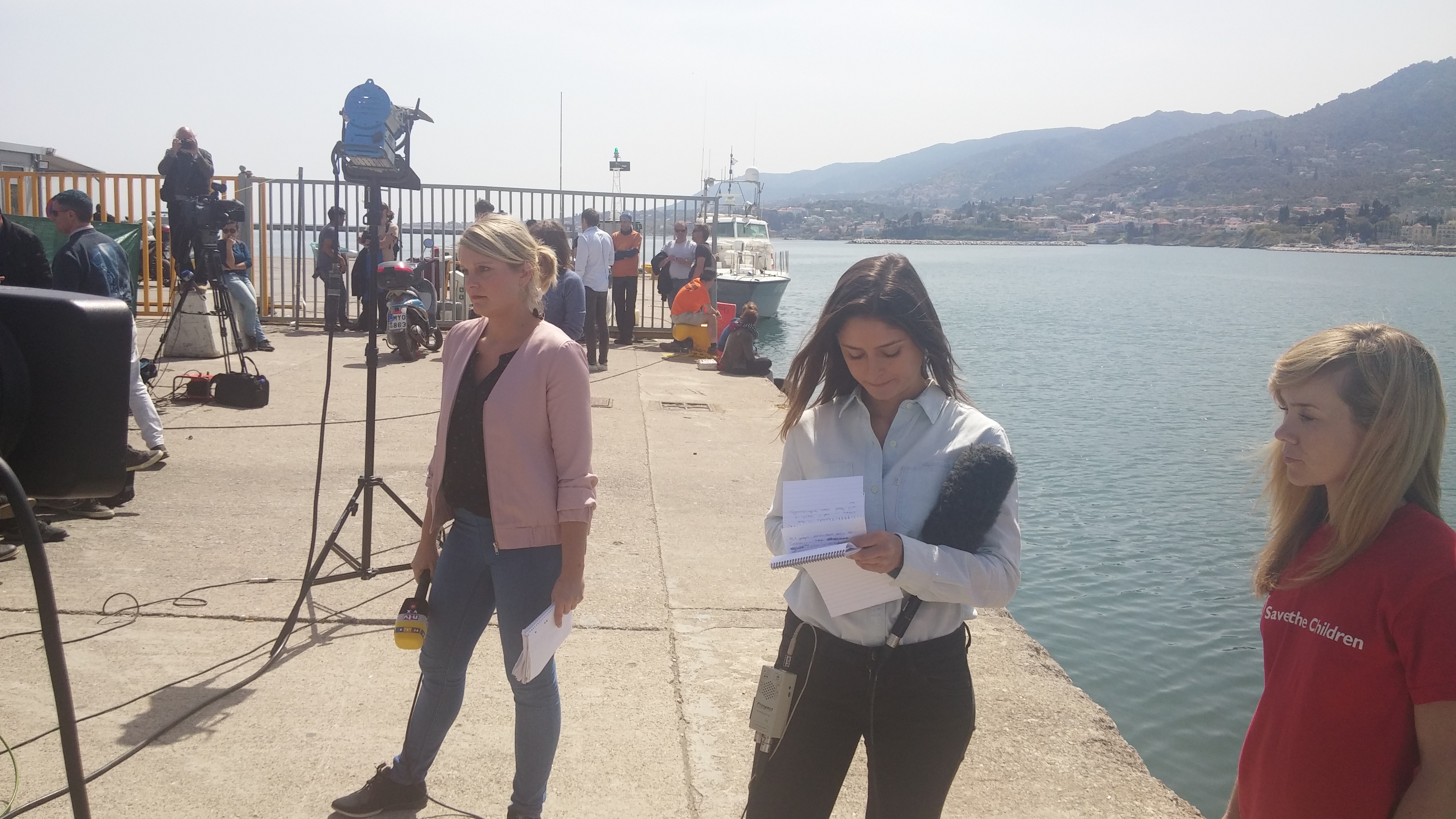 Lesvos, April 11, 2016/Independent Balkan News Agency
By Manolis Kostidis
For about a week we stayed in Lesvos to monitor closely the readmission of migrants and refugees from Greece to Turkey, a process that started under the EU Agreement with Turkey.
Great interest from foreign Media
All hotels were booked by reporters, cameramen and volunteers from non-governmental organizations that assist refugees and immigrants.
The island has been transformed into a press center. Germans, Italians, Kurds, Turks, British and even Japanese journalists are on the island to cover developments regarding immigrants. They visiting the reception centers and cover the readmission process with live broadcasts.
At the port of Mytilene have been installed vehicles for live broadcasts, both of greek and foreign companies.
The complaints we heard from all foreign colleagues was that there wasn't a representative of the Greek authorities to inform them regularly, as to when the immigrants will depart, how many are still on the island and everything else going on with the migration issue. "We learn everything from Greek colleagues or from other non-governmental organisations, perhaps someone should come to inform us about what Greece is doing", they told us.
A true professional was a representative of Frontex, who came and informed each reporter one by one on the issue of readmission.
Arab and Turkish the second language
What left an impression on us is that most signs at the island's marketplace, such as price lists of shops, had Turkish and Arabic as foreign languages. Tens of thousands of Turkish tourists visit Lesvos, arriving from Ayvalık, so it is reasonable for shops to promote their services in Turkish.
But in recent months the Arabic language also made its appearance as many refugees are staying in hotels on the island and go to the main streets to do their shopping.
Free mobile phones without an ID
The travel agencies of the island have been supplied with boxes containing thousands of free prepaid mobile connections. Those who arrive in Lesvos use the SIM cards for their communication, buying more talk time at will. But while all the Greeks and tourists must present their ID in order to get such a connection, refugees and migrants make use of prepaid connections without being recorded! We also got one and use it without having been recorded by the mobile carrier. An ideal situation for any with malicious or illegal intent of any kind!
The Germans, the Swedish and the "jounalists"
In the region around the port Germans and Swedes policemen participating in the force of Frontex are a common sight and can be seen wearing their uniforms.
The islanders provide help to refugees and immigrants on a daily basis. Everyone in his own way. But many expressed their fear for the permanent stay of many refugees. Others stress their suspicions about the role of some NGOs and some foreigner "by declaration" journalists. They told us that so far there is no journalists accreditation process and anyone holding a camera can be walk around free on the island and record whatever he wishes. A similar concern exists for certain actions of non-governmental organisations, which according with the complaints we received, make discriminations and have specific aims. We were unable to confirm their concerns.