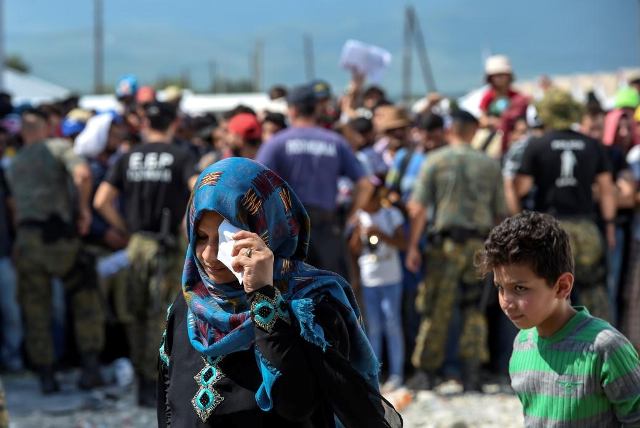 Skopje, 8 February 2016/Independent Balkan News Agency
By Naser Pajaziti
There are now more and more rumors that welcome refugee centers are being built in the south of the country. According to Macedonian media, which quotes sources within EU diplomatic circles, FYOM is expected to be the last destination for refugees, where they will be sheltered in camps for a long term period. The same thing will also take place in Serbia.
State authorities in Skopje have not declared if these rumors coming from diplomatic circles, are true. Meanwhile, in the southern border with Greece, construction works have been going on for days in the border crossing point 59.
Ministry of Interior doesn't offer any information as to whether refugee camps are being built in FYR Macedonia.
In a declaration given about the refugee crisis during the meeting of Foreign and Defence Ministers of the EU in Amsterdam, FYROM's Foreign Minister, Nikola Popovski said that the country is in constant coordination with European institutions and EU member countries in order to assess the situation.
"We collaborate and we will collaborate with all European partners and institutions in order to cope with the influx. Our country is a transit country and we will take all the necessary steps for a safe and human treatment, above all for refugees for which the EU believes that they are entitled to seek asylum", said Popovski.
Since the start of the refugee crisis and until now, the country has had two temporary welcome centers, one in Gevgelija in the border with Greece and the other in Tabanovce, on the border with Serbia. These centers are supposed to welcome refugees for a few hours and offer them medical and human treatment.
In the past 24 hours, 3 thousand refugees have arrived in the border crossing point of Gevgelija. They have been dispatched in four trains to Serbia. According to NGOs, the same number is expected to arrive in the hours to come. Jasmin Rexhepi of "Legis" NGO, told IBNA that there is no need for the construction of refugee camps, because they don't want to remain in the country, but want to leave to other countries.
"These camps must not be established because we would have a violation of human rights. These would be closed camps and refugees would be held there against their will", Jasmin Rexhepi says.
This situation has also sparked protests by taxis in the southern city of Gevgelija, as the Ministry of Interior doesn't allow them to carry refugees to the northern border with Serbia and that this must only be done with trains. /ibna/