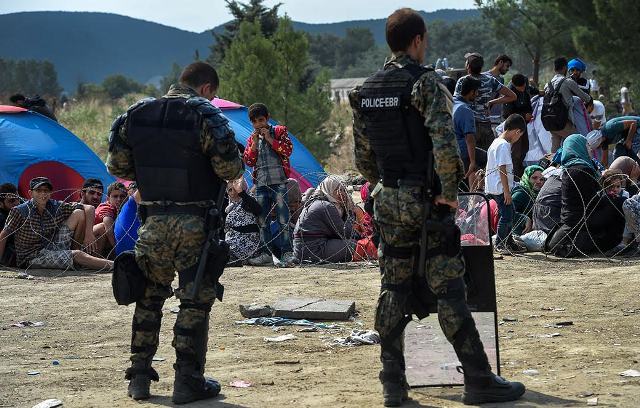 Skopje, 18 February 2016/Independent Balkan News Agency
By Naser Pajaziti
The refugee crisis is one of the main topics of the political debate in FYR Macedonia. President of the country, George Ivanov has ruled out any rumors that refugee camps will be established in the country. This was declared by his advisor, Ivica Bocevski, who issued a press release by stating that there will be no camps in the country.
"We stick to what we have said, that we are a transit country and not a final destination for refugees. We are also committed for a solution on a European level, but bearing in mind the demands of the countries involved in the crisis", Bocevski declared.
According to him, President Ivanov had warned the European Union since May about the wave of refugees and had demanded a solution on a European level.
"This crisis cannot be solved in a partial way and without the countries involved in the refugee crisis, said the President's advisor.
The President's reaction followed the declaration made by the Liberal Democratic Party yesterday, according to which the President is holding a campaign in Brussels and European countries expressing the readiness of the country in establishing camps.
"We call upon president Ivanov to answer if he will agree for a refugee camp to be established in the country with the approval of EU funds. With his recent declarations, he's making it seem that he has accepted such thing", said the Liberal Democratic Party. This party said that in case camps are established, FYROM will turn into a stop for refugees from Syria and other countries.
A week ago, Foreign Minister Nikola Popovski said that there will be no such camps.
"We will offer humane conditions for all of those who seek asylum in Macedonia, but we will not turn into a refugee camp, because no refugee has arrived in Macedonia on parachute, but entered our territory through an EU member country", Popovski declared.
Vlado Dimovski from the Center for Cross Ethnic Tolerance and Refugees in Skopje told IBNA that the country has the necessary experience to cope with refugee crises, but the conditions are lacking due to the growing number.
"It would not be a good thing for the country to turn into a refugee camp. We must continue to apply the procedure applied so far that where refugees remain 72 hours and continue their journey in other countries", said Dimovski, adding that refugees do not want to remain in FYROM.
After remaining 72 hours in FYROM, refugees travel to Serbia and then continue their journey to Western European countries. /ibna/