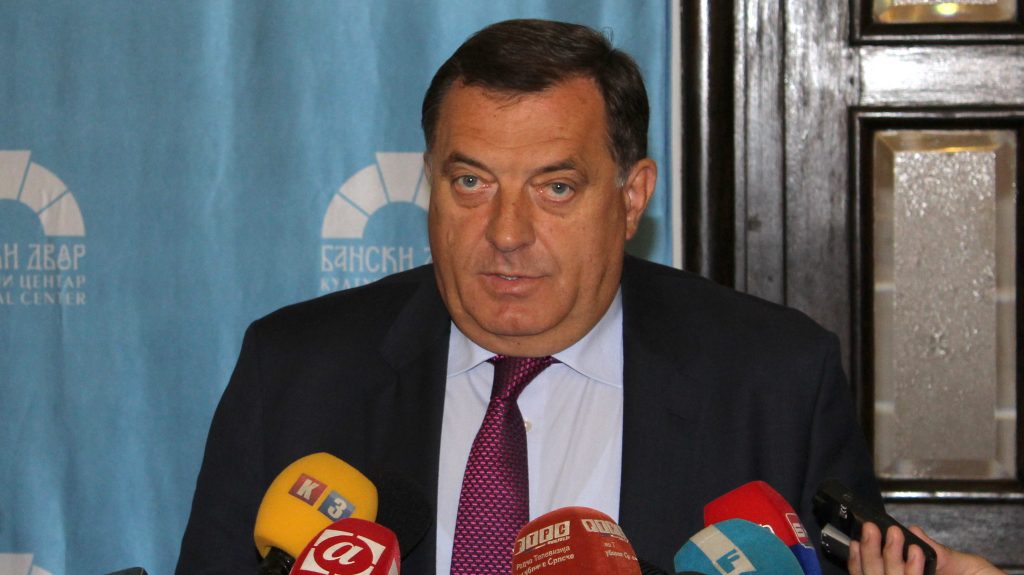 Banja Luka, September 29, 2016/Independent Balkan News Agency
By Mladen Dragojlovic
Alliance of independent social democrats (SNSD) leader, Milorad Dodik, announced on Thursday that RS will organize more referendums despite the fact that the one about January 9, as a RS Day, was banned by the Constitutional court BiH and that, because of the breach of that ban, Dodik received an invitation on a hearing in BiH Prosecution office.
Dodik, who is also the RS president, said that he will not go to Sarajevo to give his statement in the prosecution's office, but that he doesn't deny the legibility of this institution.
"I will talk with prosecutors where they want but on the RS territory, not in BiH Federation. Also, there is the possibility for a video link", Dodik said.
A few days ago, after the referendum was held, the leader of Bosniak party SDA and current Chairman of BiH Presidency, Bakir Izetbegovic, said that "Dodik may experience the fate of Muamar el Gadafi": These insinuations triggered the reactions in RS and Dodik said that he obviously is not secure in Federation BiH territory. As for second reason for the rejection of the prosecutor's call for a hearing in Sarajevo, Dodik referred to his pride.
"I received the notification for the hearing in Prosecutor office in Sarajevo but I didn't call the media on that event. That is something the Prosecutor's office did, probably with the wish that reporters take the picture of Milorad Dodik entering the building in shame. They will not see that. I will not come in the building and prosecutors will get my statement on RS territory", Dodik told the media.
He added that he never put the legibility of the BiH Constitutional court in question because, as he said, it is the only judicial institution which is mentioned in BiH Constitution. But, he said that the manner of work of this court is under question since there is no Law on BiH Constitutional court. Dodik said that he is proud on Serb people in RS because the referendum was held without any incidents.
Dodik added that RS will organize more referendums on the various questions but that the system of voting and voters identification must be improved. Also, the RS president announced that this entity Government will soon submit an appellation to BiH Constitutional court to determine whether March 1, Independence Day in BiH, is in accordance with BiH Constitution. This holiday is celebrated just in BiH Federation to mark the day in 1992 when BiH citizens voted on a referendum for a separation from SFR Yugoslavia. Serbs didn't take a part on this referendum and established their "Serb Republic of Bosnia and Herzegovina", which later became Republic of Srpska and, as that, entered BiH as one of the entities.