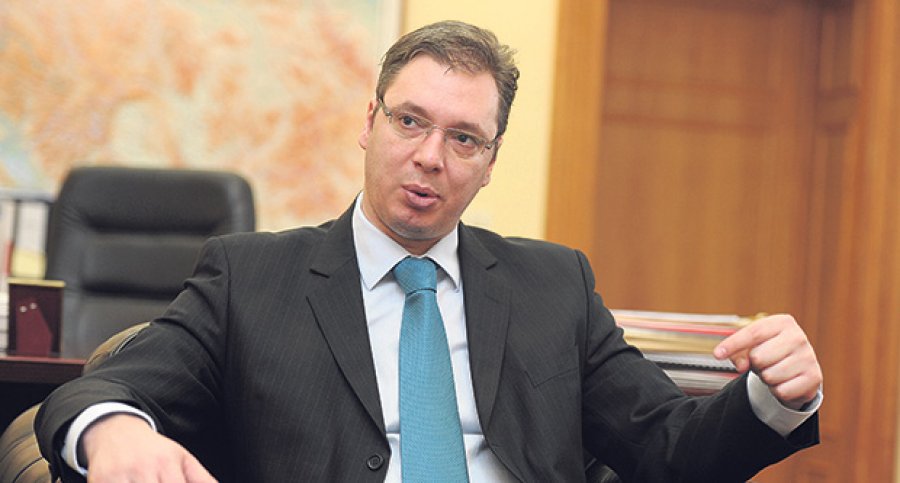 Belgrade, July 28, 2015/ Independent Balkan News Agency
By Milos Mitrovic
Serbian Prime Minister Aleksandar Vucic said that he had invested a lot of time and political ideas in order to create a peaceful political environment. In an interview for Suddeutsche Zeitung Vucic underlined that at this moment 90 percents of Serbs are for the first time able to admit that some Serbs have committed "terrible crimes" during the wars in 1990s.
"Serbs are aware that people in Bosnia have suffered unimaginably", he said.
Answering about the attack he was exposed to at the Srebrenica massacre 20th anniversary, Vucic said he did not want to cancel his attendance despite the previous warnings.
When asked whether he bears the responsibility for the escalation because Serbia has rebuffed British draft resolution on Srebrenica in UN Security Council – document vetoed by Russia on Serbia's demand – Vucic said he did not dispute nor confirme the legal genocide definition:
"I strongly condemn what has happened 20 years ago. I loathe those who were capable to commit such terrible crimes", Vucic explained.
At the same time he reiterated that the British resolution could not reconcile even two persons. He recalled that the 75th anniversary of the Jasenovac concentration camp closure would be marked in 2016, adding that Serbs and Jews were 95 percents of the victims. The Serbian PM asked whether UN would adopt a resolution on that occasion, and answered: "I doubt it".
Considering the referendum in the Bosnian entity Republic of Srpska (RS), Vucic said he is not certain if the voting would take place. "From the side of Serbia, I have asked RS representatives to reconsider the idea. I told them it would be useful to avoid that referendum".
The legitimacy of the Bosnian Court and Prosecution is to be in the focus of the referendum; RS leaders claim that these institutions are biased against Serbs. In 2011 Milorad Dodik then RS premier, current president, gave up the referendum amid pressures from the international community. But now Dodik says that voting would certainly be organized.
"I have no doubts in that regard, despite the effort which is being taken by the part of the international community", Dodik said today. He added, alluding to opposition, that he is "not afraid of political traitors instructed by the international community, who spread fear of voting".