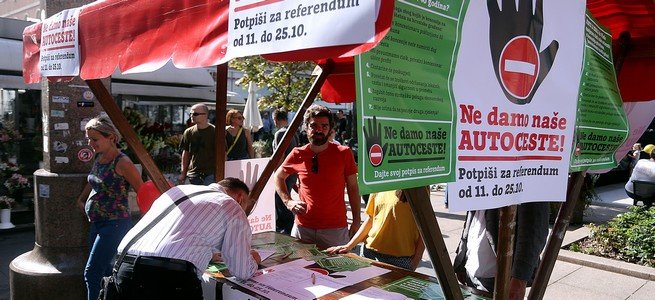 Zagreb, February 4, 2015/ Independent Balkan News Agency
By Marija Avramovic
Parliamentary Committee on the Constitution requested on Wednesday from the Constitutional Court a statement on the constitutionality of the referendum question on prohibiting the highway concessions by the initiative "We will not give up our highways".
The Committee also suggested that before the final decision, the Court of the EU should be prompted for a response on this question, which could bring the procedure to be postponed for more than a year.
Chairman of the Committee Pedja Grbin warned that the initiative did not only propose prohibition of concession of the highways, but also the absolute prohibition of concessions of all public roads, which a member of the initiative Mijat Stanic denied.
"We are looking for restricting of giving the public roads which are already built into the concession, and in the 75th article we noted that unbuilt public roads were allowed to be conceded, which means it is allowed to economically exploit them after construction, so the fact on which the Committee based its decision was false", explained Stanic.
"We too are happy that this is going to the Constitutional Court because this Committee obviously maliciously interpreted our referendum question. The Constitutional Court is certainly a lot more professional, we expect it to decide that our question is constitutional and we expect calling a referendum as soon as possible", he added.
In November last year the initiative collected and submitted to the parliament more than 530 thousand signatures for a referendum against giving Croatian motorway into concession and requested from The Constitutional Court the imposition of the provisional measure prohibiting the highways' concessions.
In August 2014 Prime Minister Zoran Milanovic believed that a referendum against the monetization of the Croatian motorways would be a form of obstruction of the Government to conduct economic policy, propose and adopt measures to strengthen the economy and have a positive impact on the national finances.