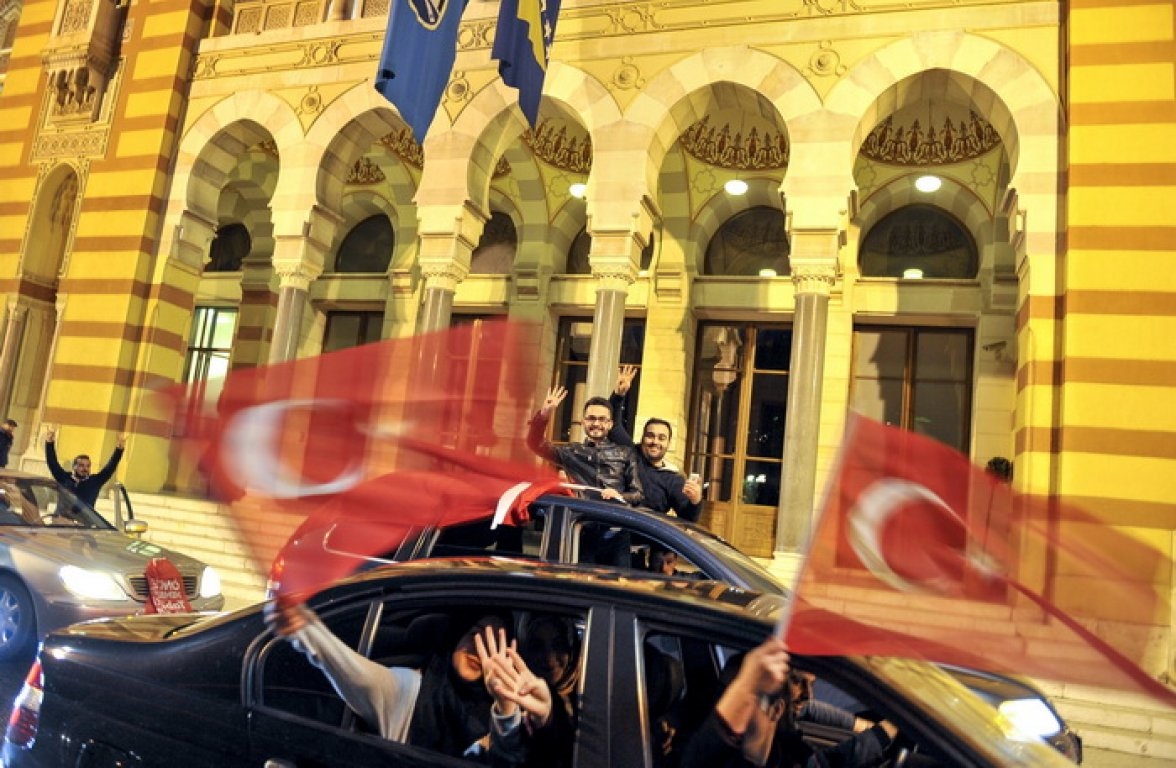 Even before then the results of the referendum in Turkey became official, Turkey citizens in Sarajevo, BiH capital, celebrated the success of the constitutional reforms in their fatherland.
Supporters of reforms in Sarajevo drove in circles through the city streets and finished their celebration on central square, Bascarsija, waving the Turkish flags and singing. It is not the first time that the Turkish community in Sarajevo reacts on events that take place in their country, but it is one of the rare cases that citizens of this country celebrated such an event in such big number.
Considering the influence which Turkey and its president, Recep Tayyip Erdogan, have in the region and especially BiH, a fact that is made obcious by the frequent visits of Bosniak officials to Ankara, the main question in BiH is whether this influence will become stronger or remain the same as before. Banja Luka University professor, Milos Solaja, said for IBNA that the expansion of Turkey's influence on Western Balkan, and especially BiH, is defined in former Turkey PM, Ahmet Davutoglu, principles.
"The success of the referendum will give more power to president Erdogan and one of the main results is that the Army will not be "the guardian" of the secular system in Turkey. This will strengthen the executive power and that will have influence on all countries and regions which have relations with Turkey. It means that they will be forced to redefine these relations, but not just in a negative manner, but rather in all aspects of the relations", Solaja says.
He added that Turkey already has influence on events in the region and that this will continue. Solaja emphasized that a new approach is possible which means that it can follow the principles of "zero conflicts in the region, multidimensional foreign policy, the maintenance of good relations and a picture of strong Turkish power".
"He who cannot recognize this influence, doesn't know anything about Turkish foreign politic", Solaja says.
He said that the referendum was the continuity of the growth of Erdogan's power which begun several years ago, when he became an important political player in Turkey, first as Prime Minister and now as President. Solaja stressed that it is possible that some countries in SE Europe will try to do something similar, but it will be very hard to achieve it since the majority of these countries follow the tradition of European parliamentary democracy.
On the other side, Sarajevo expert for Middle East, Osman Softic, told the media that the influence of Turkey in BiH is quite exaggerated and it is not nearly as big as it is presented in the media.
"However, Turkey is a friendly country with which we share a common cultural and historical tradition. Turkey is active in BiH as an investor in the fields of industry, finance, education and other segments, especially in the field of restoration of cultural heritage, thanks to the long engagement of their agency TIKA", Softic said.
According to his opinion, the referendum is an internal matter of Turkey and he doesn't believe that the relations towards BiH will change. Of course, Softic said, a strong and stable Turkey as a friendly country and a factor of stability in the territory of Balkans is better for a secure future of BiH and all of its peoples than a destabilized Turkey one step before disintegration.
"In that context, if the constitutional changes will provide greater stability and continuation of economic prosperity of Turkey, it is definitely better for BiH. But Turkish citizens will decide on that. Whatever they decide, we will respect their decision as a sovereign decision of the Turkish people", Softic stressed.
He added that the Turkish referendum on constitutional changes is much more than the personality of Recep Tayyip Erdogan and his alleged desire for unlimited power. Softic believes that Turkish people are aware of that and that the majority of Turkish citizens will vote for the proposed changes because they know that these changes are necessary for Turkey. These changes, according to Softic's opinion, are much more than the dualistic struggle between "good and evil" and "democracy and despotism", as it is – as he argues – "served from the centers of power from the West who are extremely antagonistic towards Turkey".
"Turkey is trying to rid of Western tutoring and choose its own path, confirmed in a democratic framework that will keep the authenticity of Turkish history, culture, and civilization. I expect that the majority of Turkish citizens will vote for the constitutional changes. After that, Turkey will be much more stable and it will be easier for them to deal with the challenges that are before this, strategically and geopolitically, significant country. It will be easier for them to deal with the issue of continuity of economic development, the fight against terrorism of all kinds, especially the irredentism of PKK", Softic stressed./IBNA
Photo: Anadolu