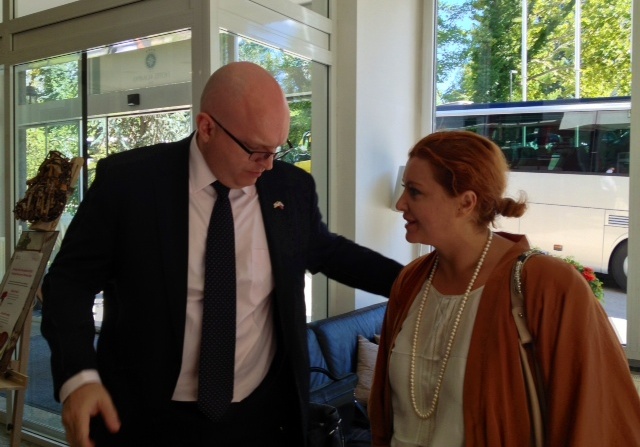 Lubjana, September 4, 2013
The vice Minister of Foreign Affairs of Albania, Edit Harxhi, which is participating in the proceedings of the Strategic Forum in Bled, Slovenia, held a special meeting today with vice assistant US Secretary of State, Philip Reeker.
Reeker expressed to Mrs. Harxhi his opinion and that of the State Department about the June 23 elections in Albania, by saying that they were a success for Albania and that Berisha's government and Prime Minister Berisha himself has a merit for organizing the best elections in Albania.
On her part, Harxhi said that the new opposition in Albania will be a solid and constructive force which will serve to the integration of the country and the United States will find on the new opposition of Albania a strong partner.
The parties discussed about the political and economic situation in Albania, the new parliament, its composition and the latest attacks against constitutional institutions, especially the President, hoping that these attacks  will not continue any further and that this would be the way to be granted the EU candidate status within this year.
Reeker once again expressed his support and the support of the US government toward Albania and his conviction that the new opposition in Albania will be constructive and strong and that it will have the support of USA. /ibna/