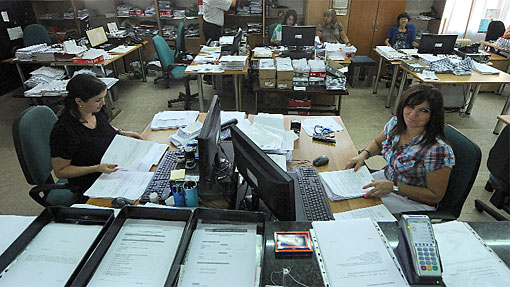 Skopje, July 3, 2013
Massive recruitments of macedonians are reducing the percentage of albanians in the state administration in
Former Yugoslav Republic of Macedonia (FYROM).
In the past few months, the government has announced several public competitions for the recruitment of managers and for massive employments of administrative volunteers, who for a particular period of time will be paid by the state.
This concern is raised from the Secretariat for the implementation of the Ohrid Agreement, This concern was openly voiced by the responsible minister for the implementation of the Ohrid Agreement, Musa Xhaferri, who has indirectly declared that parallel employments reduce the 25% level of Albanian representation in the state administration.
"Let us be open. Recently the administration is accepting not only Albanians, but also Macedonians in the state administration. If the number of Macedonians continues to grow in the administration, then we won't be able to meet our goal and we won't be able to afford this situation in terms of the budget", declared Xhaferri.
According to the 2001 Ohrid Agreement, Albanians must occupy 25% of the state administration, in line with the number of population in the country, but massive recruitments of Macedonians are lowering the percentage of representation.
Representatives from the main party of the governing coalition VMRO-DPMNE say that new recruitments of Macedonians are taking place because there's a need for new qualified staff.
The Minister of Information Society and Administration, Ivo Ivanovski says that employments must not be seen as a race between Macedonians and Albanians, but the administration must be more efficient, transparent and oriented to serving the citizens.
"Qualified and competent people should be selected, in spite of their ethnicity.If we apply such approach, we will have an administration that meets the needs of the citizens", declared minister Ivanovski in response to minister Xhaferri.
Latest figures show that FYR Macedonia is turning into the country with the most overpopulated administration. A report sent by the Ministry of Finance to the European Commission last year states that the number of people employed in the state administration is 165 thousand.
Experts for economic issues say that this flux of employments will damage the budget. In the recent years, Balkan countries such as Croatia, Serbia, Albania and Montenegro have made cuts in the administration, while the opposite is happening in FYROM, having negative impacts on the budget. /ibna/