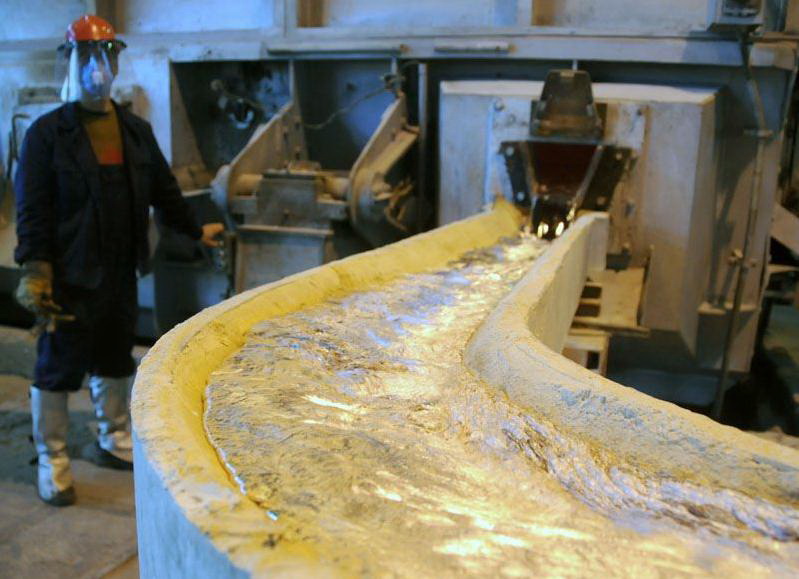 By Adnan Prekic – Podgorica
Favorable prices on the aluminum market and a better organisation of production have resulted in better commercial results for the Aluminium Plant Podgorica (KAP). Formerly the largest Montenegrin company, for years now it has been accumulating debt and because of that the government was compelled to pay several hundred million of debt that was left behind by the former owner, the russian company CEAK. The company several months ago was taken over by Montenegrin businessman Veselin Pejovic, who reduced production costs and carried on business successfully despite the high cost of the market price of electricity.
Perennial problems in the operation of Aluminum Plant are beginning to be resolved. The monthly aluminum production increased to 3,700 tons of metal. In the course of the partial process of modernisation of production the aim is to increase production to 6,000 tons of metal per month. If the new owners achieve the forecasted annual KAP production, it will be increased by 72,000 tons. That's more than double what KAP is currently producing.
The number of employees has been significantly reduced. KAP used to employ several thousand people. At present, KAP employs 520 workers, while the average wage is 750 euros.
The greatest challenge still remains the price of electricity. The new owner is currently paying the market price and is expecting an agreement with the national energy company. The company "Uniprom", which manages KAP, expect the price of 38 euros per megawatt hour. The Montenegrin Electricity Company  is offering a price of 40.8 euros plus a transfer costs of 3.8 euros per megawatt/hour.
After the bankruptcy, and the two tenders for its sale, once the largest factory in Montenegro, the Podgorica Aluminium Plant in June this year was sold for 28 million euros to the Montenegrin company Uniprom.
In 2005, the montenegrin government had sold KAP to CAEC company, which stands behind RUSAL, owned by Russian tycoon Oleg Deripaska. From 2005 to 2013 KAP was managed by CAEF. In 2013 KAP fell into bankruptcy and created a debt of around EUR 360 million.
The government of Montenegro tried to save the production of KAP in 2008 by issuing government guarantees of EUR 120 million as a loan to the Russian owner, to try to continue production. The loan was never refunded and last year the government was forced to pay a rate of more than 100 million euros in credits to KAP from the state budget.