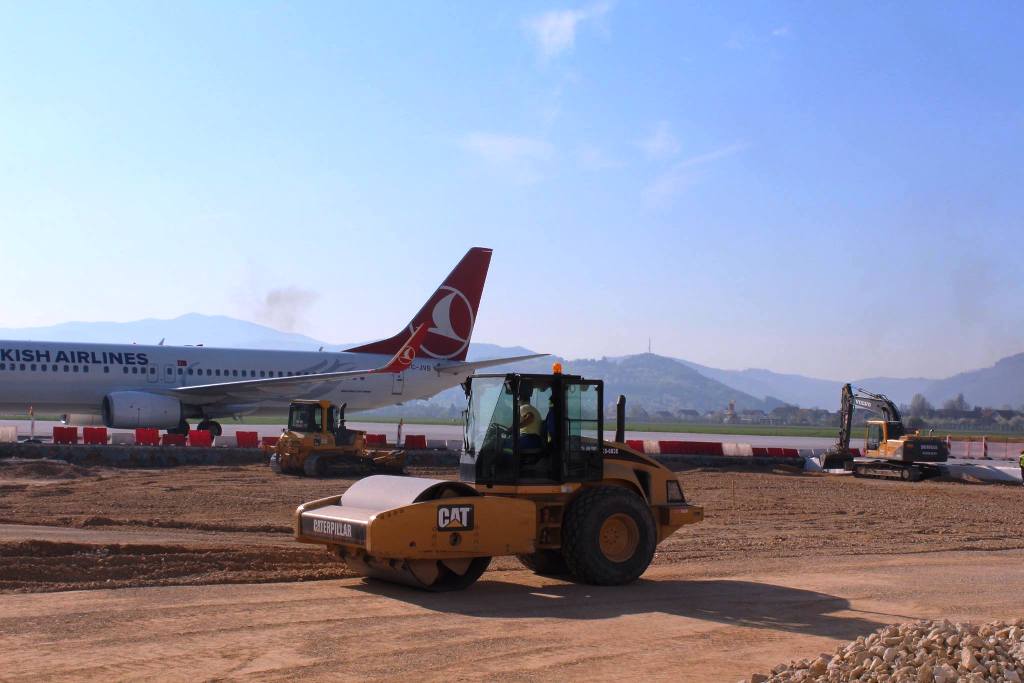 Part of Sarajevo international Airport apron will be reconstructed in the next period as the planned reconstruction of the runaway is in the final process of preparations. The reconstruction of the apron will include 3 500 square meters and it should enlarge the usage of this part for at least the next twenty years.
The planned runway reconstruction was described by airport officials as an "extremely challenging project", valued at 10,2 million euros, but it must be finished, because of increased number of tourists who want to visit BiH and its capital. The first phase of apron reconstruction was finished three years ago and the whole job is valued at more than 400,000 euros.
"It must be done, since the last reconstruction of the runway took a place in 1998. We are currently making studies which will show us more about the details we must consider as the zones of work which must be carried. Decision will be influenced by the time the airport must be closed for commercial traffic", said recently Armin Kajmakovic, Airport general manager.
Airport reconstruction is important for several reasons and the main is the increased number of passengers in accordance with introduction of new lines for important cities in region and Europe. Maybe the most important thing for the Sarajevo International Airport is the fact that the management finished negotiation with Wizz Air and the first line has already been established. After months of negotiations, the plane with Wizz Air sign landed recently in Sarajevo from Budapest. The main problem between this carrier and Airport was the amount of taxes, which were made the ticket price higher than Wizz Air was ready to offer. However, in the meantime, Airport management decided to agree with lower taxes and Wizz Air got the concession of the passengers transfer between Budapest and several locations in the region of Western Balkans. One of them was Sarajevo.
"Starting five new strategically important routes to the capitals of Western Balkan countries once again underlines our commitment to Hungary as the de facto national carrier. We believe that our new services will help stimulate economic and business relations between the countries, as well as further improve accessibility to Budapest", said Wizz Air CEO, Jozsef Varady.
For BiH citizens the Hungarian capital has always been one of the favorite destinations and now it is closer than ever, even for BiH citizens with lower income. The ticket price goes from about 20 euros and it is affordable for large number of future tourists.
On the other side of the country, in Banja Luka, the airport is one of the most indebted companies with no chance for agreement with low cost companies like Wizz Air. Airport management refuse to lower taxes and in last several years only flights for Belgrade are working on a regular basis./IBNA