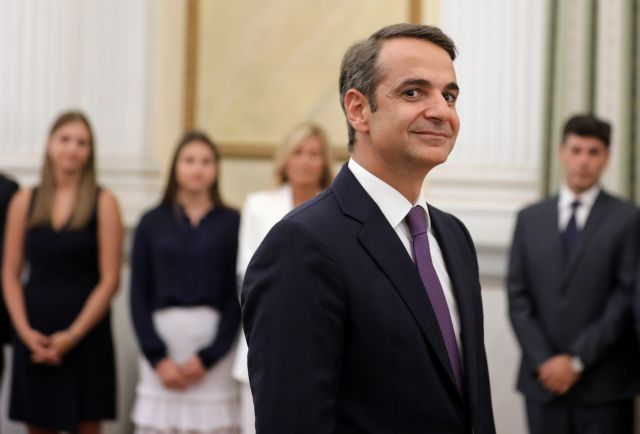 Maximos Mansion executives are preparing for the trip to New York, as it will be Mitsotakis' first appearance as prime minister at an international conference, the nature of which offers the ground for contacts and acquaintances to be made.
The spotlight is already on the two "reconnaissance", as described by his associates', meetings with Turkish President Tayyip Erdogan and Prime Minister of North Macedonia Zoran Zaev. Mr. Erdogan was the first foreign leader to call him when he moved into Maximos Mansion and pinch a meeting between them. However, as the timing with Turkey causing tensions and provoking is not ideal for visits to be made, it was considered that the UN conference room worked as an appropriate context for a first reconnaissance approach. The same applies to Mr. Zaev. The Prime Minister has toned things down regarding the Prespa Agreement, and of course his current statements have nothing to do with his rhetoric on the same issue back when he represented the main opposition. Even more so when it comes to Foreign Minister Nikos Dendias and Dora Bakoyannis. The ground is already being laid for a rapprochement between the two countries, as always in the context of the "strict compliance with the Agreement and the mitigation of its negative consequences". Naturally, the main opposition considers this to be a "180-degree turn".
During the UN summit, the prime minister will probably meet with President Trump. Their first meeting will also be a reconnaissance, but it comes at a very interesting point in time, as the geopolitical balance in the region undergoes changes. Turkey's rapprochement with Russia cultivates the conditions for moving away from the US, which will affect the hierarchy of our own country in Washington's plans. Perhaps the country will be considered a first-rate nation for the first time, as it is now considered a second-rate country in the American designs. The trilateral agreements with Cyprus and Israel, as well as with Cyprus and Egypt, benefit an overall upgrade for our country, which can be later utilized in its confrontation with Turkey. It is rather significant the fact that the talks on the strategic relationship between Greece and the US, which become more solid through the arrival and the participation of the US Secretary of State on October 5 in Athens, are ongoing.
In this sense, New York is of particular importance to the government, as the three meetings are de facto linked. Of course, the government has no reason to hurry or risk a change of attitude towards Turkey. After all, it doesn't seem prepared for such an event. The downside is that the government does not seem to have an elaborate foreign policy framework. The effort by Maximos Mansion executives to promote the idea that Kyriakos Mitsotakis will head to the UN and talk with President Trump and Erdogan about investments seems merely embarrassing, rather than any sort of preparation to face the challenges and opportunities that arise from the current situation. /ibna