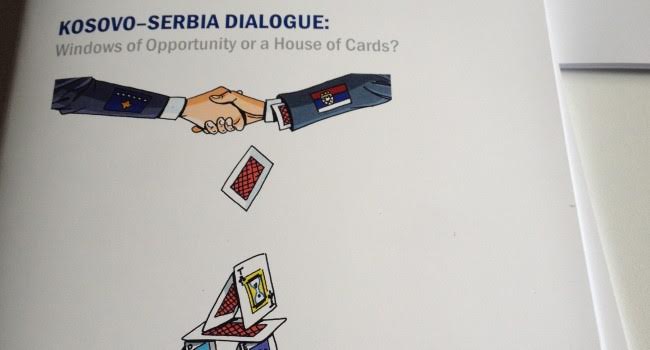 17 years after the war, Kosovo and Serbia still have a lot to do in order to achieve good neighboring relations between the countries.
The talks for the normalization of relations, which started in 2011, have not yielded the expected results. However, president of Kosovo, Hashim Thaci doesn't give up on a process which is being brokered by the European Union.
"Reconciliation between Kosovo and Serbia must happen. We must not remain a hostage of the past. Everyone should rise above oneself for the sake of reconciliation. This must be done in the name of the democratic and European future of Kosovo", says president of republic, Hashim Thaci.
The head of Self Determination parliamentary group, Glauk Konjufca says that the government of Kosovo has not managed to achieve the objectives announced in 2011 through these talks.
"At that time, there were two main objectives: Integration of the north of Kosovo and the acceleration of European integration process. None of these objectives has been achieved through talks. The situation has deteriorated and Mitrovica is in danger of being divided by Serb parallel structures".
Meanwhile, experts of political affairs consider the calls of the president for peace and reconciliation as irrational. According to them, Serbia continues to show an aggressive approach toward Kosovo.
"The efforts of the president for reconciliation are irrational. I don't think that they will yield any results, because the Serb side has not shown a will for peace and reconciliation with Kosovo. Serbia doesn't want peaceful talks. It is fighting our state in every front. This was seen with the obstacles for the accession in the UNESCO, the division wall in the north and many other things", says Mazllun Baraliu, professor at the University of Pristina.
Azem Vllasi, expert of political affairs says that President Thaci's appeals are aimed at achieving reconciliation with the Serbs and not to tolerate Serbia.
"It is true that Serbia has not yet apologized for the crimes committed during the last war, but this is something else. In order to move forward toward European Atlantic integration, we behave with dignity in front of  our neighboring country. This is the request of our international partners", Vllasi says. /balkaneu.com/