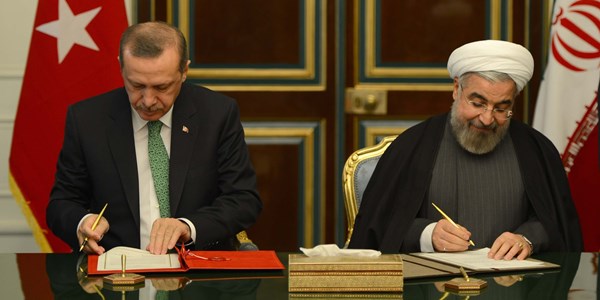 Ankara, April 7, 2015/ Independent Balkan News Agency
By Manolis Kostidis
Turkish President Recep Tayyip Erdogan is on an official visit to Iran, where he met with his Iranian counterpart Hassan Rouhani.
The two countries have serious disagreements on foreign policy in the Middle East.
Until recently, Ankara was thought of supporting the Islamic State, while Tehran gives money and weapons to the regime of Bashar al-Assad that combats jihadists.
Erdogan supports the alliance Arab Sunni Muslim countries against pro-Iranian Houthi Shiite rebels who have seized power in Yemen.
A few days ago, Erdogan had accused Tehran that it is trying to impose its hegemony in the Middle East. Despite the differences, however, the Turkish president did not cancel his trip and met with Rouhani a few days after the announcement of the initial Tehran agreement with the international community on its nuclear programme.
It is considered that in the Middle East region Turkey supports Sunni Islam, while Iran is trying to impose the regimes of Shiites or Alevis.
"Conflict in the Middle East must stop. When someone dies I do not care to which heresy he belongs to", Erdogan said immediately after his meeting with Rouhani.
The two leaders reportedly found common ground on their disagreements in Yemen as the president of Iran said that "we discussed the matter and found common ground to agree".
Erdogan complained that Turkey buys gas from Iran at an expensive price and asked for a discount and promised increased trade, which according to estimates may surpass USD 30 billion.
However, many Iranian newspapers react to the visit of the Turkish president and ask Erdogan to apologise for his statements on Tehran's policy.