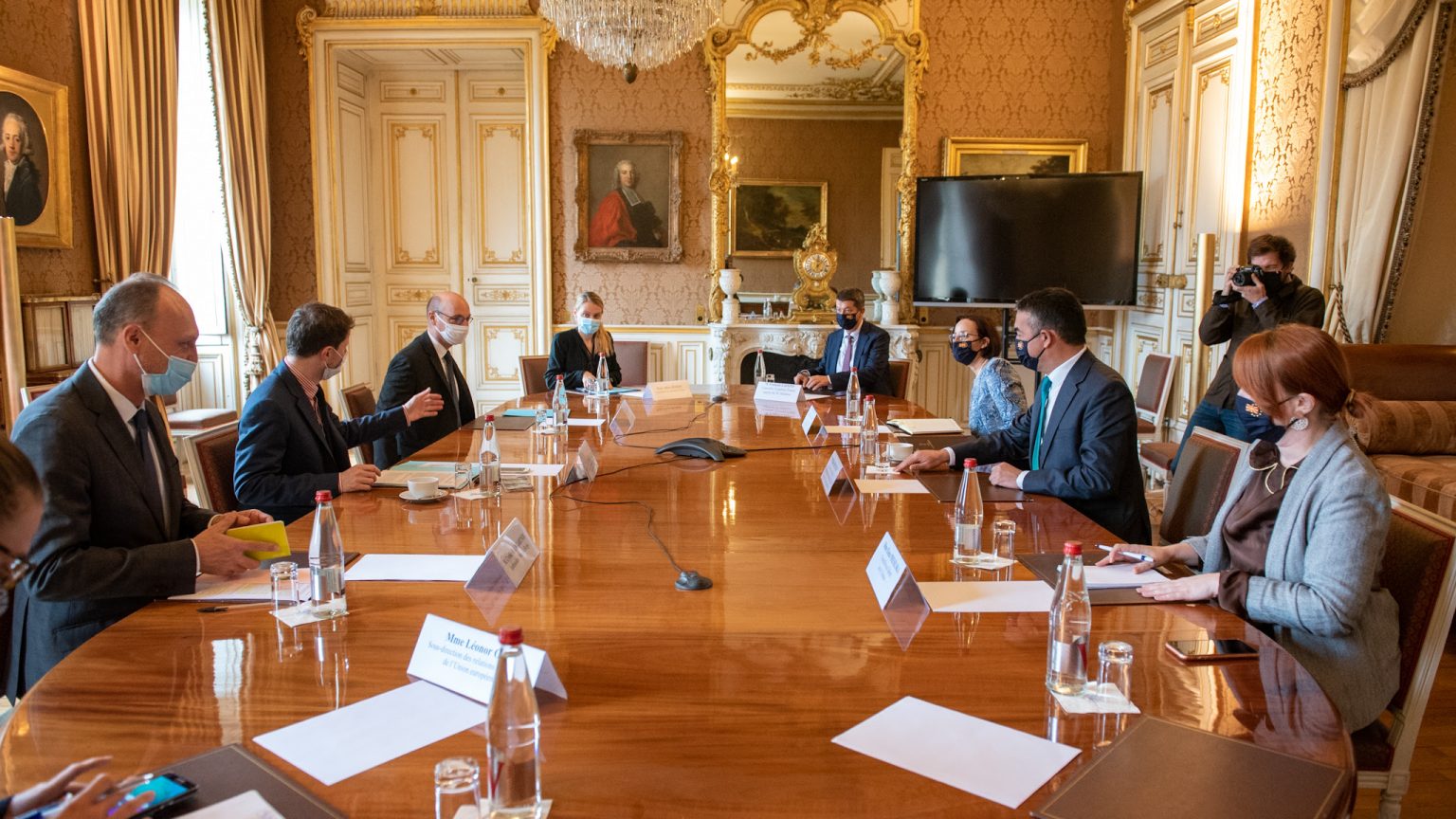 Securing French support for the successful completion of North Macedonia's European story this year was the focus of today's meeting between Deputy Prime Minister for European Affairs Nikola Dimitrov and Clement Beaune, Undersecretary of State for European Affairs at the French Ministry of Europe and Foreign Affairs.
"The standard French support expressed through the renewed approach to the negotiations is another important element in this decisive phase for the adoption of the document that will allow the start of the negotiation process this year. An element that gives us the right to believe in the success that Europe needs", said Dimitrov, who kicked off his two-day visit to France with a meeting with Beaune, in his first official meeting since the formation of the new government in North Macedonia.
Emphasizing the role of France as one of the pillars of the Union, Dimitrov stressed that the sooner the Member States reach a consensus on the negotiating framework, the sooner the last phase of the accession negotiations and the successful transformation of the North Macedonian society will commence.
"In this way, a positive message will be sent out to the region that Europeanisation is the only way to thoroughly strengthen democratic processes and enable economic growth and development, and thus improve the living standards of the people", Deputy Prime Minister Dimitrov said from Paris.
Dimitrov and Beaune jointly stated that the process of adopting the framework and holding the first Intergovernmental Conference will derive from all the efforts and successes achieved in the last period in terms of reforms, but also in terms of closing bilateral issues with neighbors, an achievement of North Macedonia, as well as of the European Union and its Member States.
The French side reaffirmed its readiness to assist in achieving mutual success, stressing that negotiations will follow the new methodology that will help strengthen the political dimension and the predictability of the process.
"We had a wonderful meeting with the French Minister for Europe, Clement Beaune. It is not easy to get French support and I think North Macedonia deserves it. In a way, we have a common interest based on the new methodology, which should be reflected in the negotiating framework, which is now being negotiated at the Brussels table between the Member States, and to finally launch the accession process, working internally to suggest arguments, we always have the support of Paris. I think we have our place in France's vision for the future of Europe", Dimitrov said.
For his part, Beaune stressed that the new methodology is comprehensive and requires much more, but the process is becoming more transparent and will better offset the reform efforts that have been implemented, noting that he is confident progress will be made in the process of European integration in December.
"I am pleased to welcome today in Paris Nikola Dimitrov, Vice President of the Republic of North Macedonia, with whom we have long cultivated working relations to improve the situation and our European talks. We have set out a new methodology for the accession negotiations, which is extensive and requires much more, but in which the process is more transparent and will better offset the efforts for the implemented reforms. I know that Nikola Dimitrov is very committed to implementing and accelerating these reforms, which are necessary in the European course. I believe that we will be able to make progress in this process in December, and I look forward to working together, often because it is in our mutual interest to strengthen Europe and the region, and stabilize our common security in the years to come. It is a long-term project that we will build together, and I am happy that we will continue to cooperate", said Beaune. /ibna