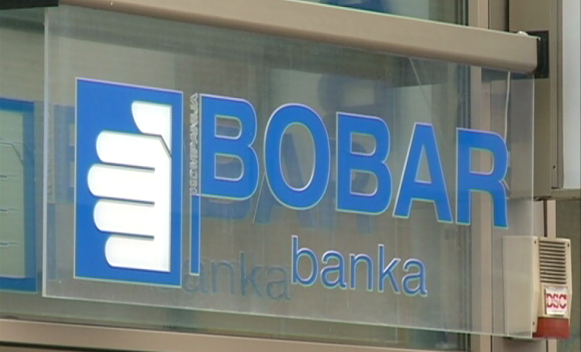 By Mladen Dragojlovic – Banja Luka
RS Banking Agency ordered a receivership in "Bobar bank" on Thursday and introduced Savo Sevaljevic for temporary manager. The decision caused an "earthquake" on the financial sector in BiH. This "earthquake" had a bigger effect on the Republic of Srpska rather than the Federation BiH since many transactions of the RS Government were made through this bank.
"Bobar bank" had been having problems for the last several months, but the RS Bank for investments and development (IRB), established by Government, tried to save it. But recently bank owner, a businessman from Bijeljina Gavrilo Bobar, suddenly died and begun the final countdown for his bank.
All accounts and deposits in the bank are blocked and the Bank is closed. As Sevaljevic said to the media, the Bank will reopen in next few days. Along with Sevaljevic, an auditing team of the RS Banking Agency came to the Bank to catalogue and protect as much deposits as is possible.
Sevaljevic told the media that all deposits smaller than BAM 50,000 (about EUR 25,000) are insured. The payout of bigger deposits will be a hard task and will depend on the amount of money the Team will find in the bank and accounts.
"When the auditors finish their work and submit their report, I will call shareholders on a meeting to decide about further steps. According to the law, it is possible to seek for new investor, merging with another bank, or the bankruptcy and liquidation of the bank, said Sevaljevic.
Attempts of IRB to save "Bobar bank" turned into a political question for the ruling party, since the late owner Gavrilo Bobar was member of the ruling Alliance of Independent Social Democrats and member of RS National Assembly. Leader of the opposition Peoples Democratic Movement (NDP), Dragan Cavic, warned two weeks ago that "Bobar bank" is in trouble and that the RS government is unlawfully trying to save it over IRB deposits. He added that IRB bought Bobar Bank stocks in an attempt to bring it to an acceptable level of financial operations.
"I am not speaking about several thousands or hundreds of thousands convertible mark (BAM). IRB has put millions in Bobar Bank, but there was no other way than to put this Bank in bankruptcy. The financial sector in RS will feel the earthquake, while citizens will have problems and it will lead to financial insecurity in RS", said Cavic.
Some analysts say that it will be interesting in the future to see who withdrew their deposits from the bank in last several days, because information about receivership should have been top secret information. In this case, this information wasn't secret and, obviously, opposition parties will have more reasons to attack the ruling parties for fraud.