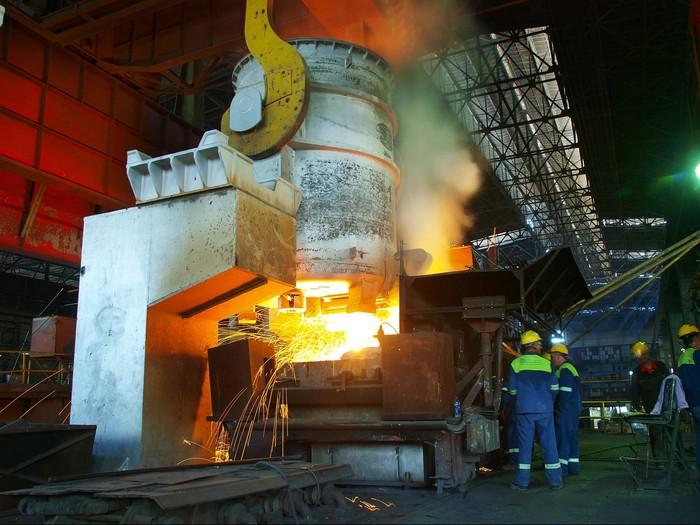 By Adnan Prekic – Podgorica
The largest investment by a Turkish company in Montenegro is finally ready for implementation. After three years since Turkey corporation "Tosyali Group" bought the Niksic ironworks, everything is ready to start production. In the past three years production was at its minimum due to the installation of a brand new equipment.
Turkish "Tosyali Group" has bought Niksic Steelworks in bankruptcy in May 2012 for 15.1 million euros. The Turks then announced that for the three years they will invest 35 million euros, increase production from 120 to 400 thousand tonnes and employ 550 workers. In the previous period, the turkish company has fully modernized ironworks. New equipment from Italy has been installed in the most important operation – the blacksmith shop. With new equipment production costs will decrease due to use of the gas instead of fuel oil, and that will create savings per ton for a minimum of 80 euros.
In the last period in the Steel plant worked 200 employees, but with the renewal of production it will create conditions for employment of about 550 workers. Steelworks Niksic, which once had over 7,000 workers, employed only 250 by the time it went bankrupt in April 2011 over debts of 125.1 million euros.
Because of the great number of workers that Niksic ironworks employed, apart from commercial it also was a big social problem. The first privatization of the company was made in 2004 when the steel mill bought for a thousand euros, as it was announced, a multinational company "Midland risorzis". Before the signing of the privatization contract the state has accepted upon itself around 75 million euros of ironworks debt, of which over 60 million is debt to the government. With the new debts, the company quickly abandoned steel mill and a new privatization was carried out in late 2006.
The British-Dutch company has bought control package of stocks for 5.2 million euros, and four years later the leaves company with receivables which amounted to 193 million euros. The government is in order to maintain social peace in Steel plant reopened the state coffers and with close to 25 million funded the retirement of about 1,500 workers, who from 2010 to the beginning of 2012 left the factory and its former facilities.
The turkish company is the fourth owner of the Niksic ironworks since the government of Montenegro decided to sell it. The State, on the name of guarantees and debts that the company created, by the official data, paid about 150 million euros.