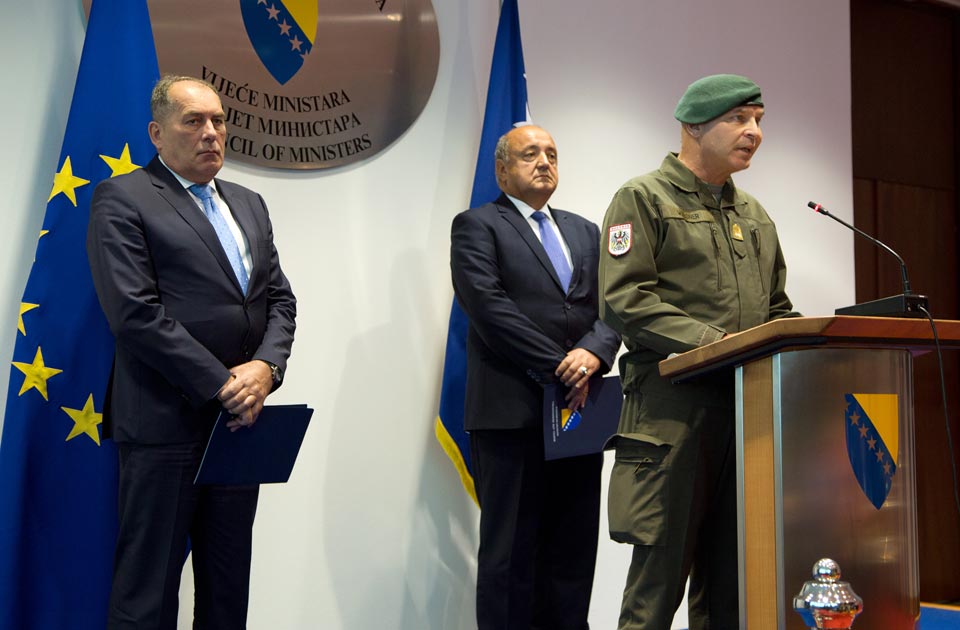 At the presser that took place at the BiH Ministry of Security in Sarajevo, EUFOR Commander, Major General Anton Waldner, Deputy Minister of Defence of BiH, Sead Jusic, and BiH Minister of Security, Dragan Mektic, said that "Quick Response 2017" exercise is very important because it will include various security agencies which will act according to realistic scenarios.
"Quick Response 2017" is a EUFOR-led peace support operation exercise about to take place between the 11 and 15 October in Sarajevo, Pazaric and Kalinovik, in Central BiH. This will be the first time the country's law enforcement agencies, its Armed Forces and EUFOR order to test their respective contingency plans.
As stressed, the exercise will be an excellent opportunity to test the level of training of the competent institutions and police agencies in BiH to respond quickly and efficiently to any security threat.
"In addition to testing the coordination of local institutions, the cooperation with international forces is also important, in this case with EUFOR, on whose support and assistance we rely in many realistic situations. Along with the testing of procedures, the exercise will help identify any impediments, and their elimination will enable actions of even greater efficiency," said Mektic in his address to media.
EUFOR Commander Major General Anton Waldner emphasized that terrorism is a serious threat to security, to the values ​​of democratic societies, to citizens' rights and freedoms, but especially it is considered as such because it is targeting innocent people.
"The imperative in the fight against terrorism today is that the international community, states and civil society are more involved in a strategic approach, that leads to the possibility of recognizing such events, to prepare for them and, if possible, to prevent them", said Waldner.
"I would like to state that the European Union remains committed to Bosnia and Herzegovina and that, through the presence of EUFOR, it will continue supporting BiH in its endeavours to maintain a safe and secure environment, on its path towards EU membership", the EUFOR Commander said.
"Quick Response 2017" will increase interoperability both between EUFOR forces and the Bosnia and Herzegovina's Armed Forces and Law Enforcement Agencies. EUFOR maintains the capacity to react in any area of Bosnia and Herzegovina to any localised security challenge, if needed. Moreover, EUFOR will maintain a mechanism whereby reserve forces may be deployed in a timely manner in order to support the BiH authorities in ensuring a safe and secure environment…/IBNA