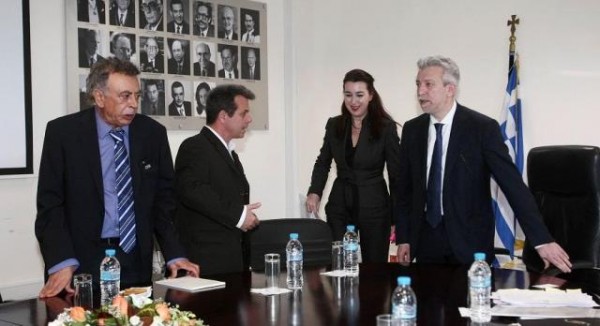 Athens, March 31, 2016/Independent Balkan News Agency
By Spiros Sideris
There is an increased risk for the ban of Greek football from European competitions, after the meeting of deputy minister of Sport Stavros Kontonis with FIFA and UEFA, which are in Athens for talks.
The meeting concerned the cancellation of the Greek Cup after the decision of the State, with the international federations demanding the annulment of the decision, threatening the severest penalties provided for the Greek Football Federation by their statute.
On behalf of FIFA arrived an echelon under the responsible for the national federation of the federation, Primo Corvaro, the chairman of the Cypriot football federation, Costakis Koutsokoumnis, while UEFA was represented by its legal representative Angela Rigopoulos,
EPO was represented by its President, Giorgos Gkirtzikis, the Executive Director Pausanias Papanikolaou and the legal adviser, Dimitris Davakis.
On the part of the Ministry, apart from the Sports minister, the meeting was attended by the head of his political office, Hiakovos Filippousis.
The discussion lasted less than 1.5 hours and both Koutsokoumnis and MGkirtzikis appeared pessimistic in their statements after the meeting, for the avoidance of sanctions by the international federations if the Sports minister does not back down.
Kontonis, for his part, reiterated that he awaits the Council of State decision on the appeal of EPO to cancel his decision, a case which was suspended on Tuesday because of the abstention of the Bar and will be heard on April
5.
Stavros Kontonis throws the ball at EPO's court
Stavros Kontonis made an implicit call to EPO to cleaning itself.
The Sports minister, after meeting with FIFA and UEFA, insisted that there is no question of self rule violation when security issues are raised and basically threw the ball at the federation to avoid the international embargo of Greek football.
He also pointed out that the international football authorities have admitted that there are serious problems in Greek football.