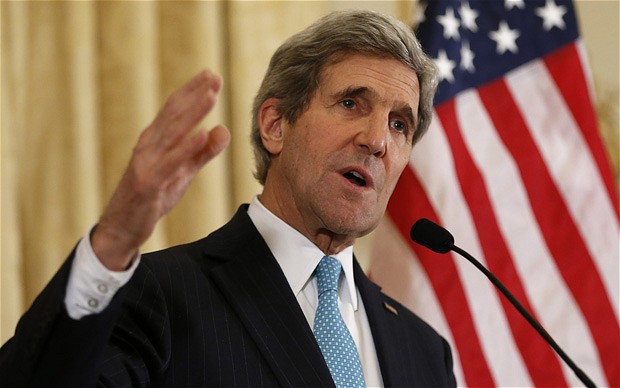 Nicosia, May 1, 2015/ Independent Balkan News Agency
By Kyriacos Kyriacou
US Secretary of State John Kerry had a telephone conversation on Thursday with the new Turkish Cypriot leader Mustafa Akinci, to whom he reaffirmed US support "for the negotiation process conducted under the auspices of the UN and Special Advisor Eide to reunify the island as a bi-zonal, bi-communal federation". Kerry also reiterated the willingness of the US to assist the negotiation process in any way the parties find useful.
Meantime, the European Parliament reiterates its strong support for achieving a fair, comprehensive and viable settlement to the Cyprus problem on the basis of a bi-communal, bi-zonal federation, calling on Turkey "and all parties concerned" to actively support the negotiations to reunify the island.
This is included in the EP's Draft Report on Turkey's accession progress for 2014 drawn up by the Rapporteur of the report, Dutch MEP (S&D) Kati Piri. The report includes a total of 23 compromise amendments adopted by Piri, following a series of meetings with the shadow Rapporteurs, two of which are concerning Cyprus.
In addition, it calls on Turkey to begin to withdraw its troops from Cyprus and to transfer the sealed-off area of Famagusta to the UN in accordance with UNSC Resolution 550(1984) while it calls, in parallel on the Republic of Cyprus to open the port of Famagusta under EU customs supervision, in order to promote a positive climate conducive to the successful resolution of the ongoing reunification negotiations, and to allow Turkish Cypriots to trade with the EU in a manner that fulfils all legal obligations and standards of the EU.
Cypriot MEPs, in statements, acknowledged that the draft report had some positive points but they all agreed that there were also negative aspects that they would try to change in order to improve it.
The draft report will be discussed by the EP's Foreign Affairs Committee next Tuesday, 5 May, and then it will be put to the vote in the same Committee on 11 May. A final vote on the report will take place either at the EP's plenary session on 18-21 May in Strasbourg or at the plenary session to be held in Brussels on 27-28 May.