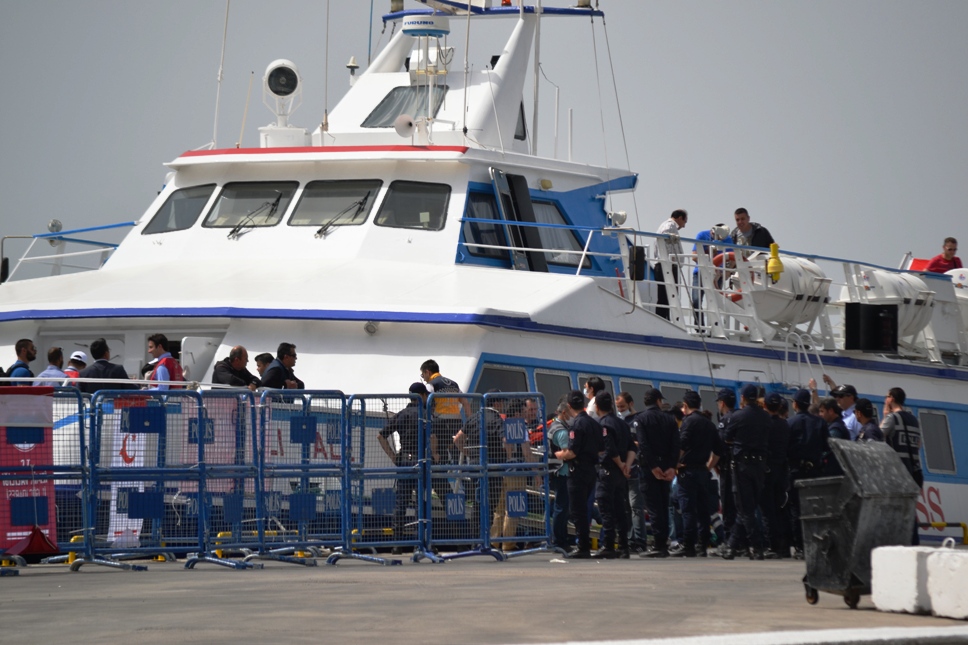 Athens, April 9, 2016/Independent Balkan News Agency
By Spiros Sideris
Amid tension was repeated on Friday morning the process of the return of migrants from the Greek islands of the Aegean to Turkey, via Mytilene. Activists fell into the sea to prevent the ship from leaving Lesbos with 45 refugees from Pakistan.
Three activists, after swimming among the vessels, grabbed the chain of the ship's anchor, preventing it departed. Eventually, with the intervention of the port authorities and the police the activists were arrested and the ship departed.
Apart from the 45 people who were returned to Turkey, some 79 refugees were transferred on Friday from Kos and Samos, Lesbos, and then to Dikili, where a total of 124 people – who did not apply for asylum in Greece – were handed over to the Turkish authorities, accompanied by an equal number of policemen of Frontex.
However, one of the 45 returnees aboard the first ship, which left from the port of Mytilene for Dikeli, a Pakistan national, was not admitted there, for reasons not yet adequately clarified and is already back in Lesvos.
Of the returnees, 111 are from Pakistan, two from Bangladesh, four from Iraq and India, and one from Morocco, Egypt and Palestine (according to his statement).
Most of the refugees who are in the hot spot of Moria in Lesvos have expressed their intention to apply for asylum, so for them the return process "freezes".
In Dikili, as the Turkish authorities told IBNA, the organization for the readmission of migrants is made by 1000 employees, 500 police officers, 15 doctors, 50 nurses, 14 translators and 11 of specific tasks, including psychiatrists and psychologists who support the immigrants. All participants are government employees, while there isn't any NGOs involvement.
Immigrants from the port of Dikili, after their recording and the identification, boarded buses bound for Kırklareli, near Turkey's border with Bulgaria. There they will remain for about two weeks. After that they will be transferred to their home countries via flights.
Readmission continue via "Kipi" in Evros
Meanwhile, 97 other irregular migrants were returned on Friday to Turkey via the frontier outpost of Kipi in Evros, under the provisions of the bilateral Readmission Protocol between Greece and Turkey.
These are 71 Pakistani nationals, 20 from Bangladesh, three from Algeria, two from Iran and one from Morocco.
The process will continue through the Police Department of Kipi in Evros on Monday, April 11, with the surrender of 72 more irregular migrants to the Turkish authorities.