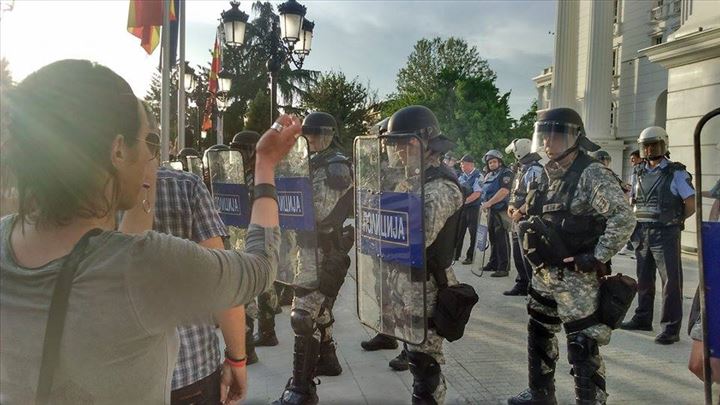 Skopje, 6 May 2015/Independent Balkan News Agency
By Naser Pajaziti
Reactions have emerged today in Skopje in relation to the anti-government protests held last night.
Minister of Interior, Gordana Jankulovska, said today in a press conference that this was a vandal attack against police. "This was a vandal attack against police. Police has not exceeded its powers and it has acted according to all rules". Jankulovska blamed the Macedonian opposition of trying to cause unrest in the country through its scenarios.
According to her, the protest caused the wounding of 36 police officers, six of which are in a serious condition. "We have had a large number of wounded people and we have arrested 30 people, two of which are minors involved in violence", said Interior minister Jankulovska.
Reactions have also arrived from a large number of NGOs and human rights organizations.
CIVIL organization said that police has ruthlessly beaten protesters in the streets of Skopje. "Some of our activists and protesters too have said that violence has been used against them in police stations. A part of them have been sent to court to be prosecuted", said Dzabir Derala of CIVIL. He said that police must release all those who have been arrested as soon as possible.
The Union of Journalists has reacted by saying that police has used violence against journalists. According to this union, Jadranka Kostova from FOKUS magazine and Zoran Ivanov have been victims of police brutality.
Meanwhile, fresh protests have been warned tonight, not only in Skopje, but also in the second largest city, Manastir.
The protest has been called by civil society and student organizations through social networks, appealing for support against police brutality and violence.
Citizens say that they support these protests against police violence, especially in the case of the murder of the young Macedonian man, Martin Neskovski, four years ago by a police officer, for which police hid the truth, by holding accountable only the police officer, who was part of PM Gruevski's security staff.
"We're sorry how the murder, for which the Interior minister, Jankulovska was also responsible, was hidden. They planned on only blaming a police officer for this murder. This is not democracy. We want the truth to come out", said Anja V, a student. /ibna/