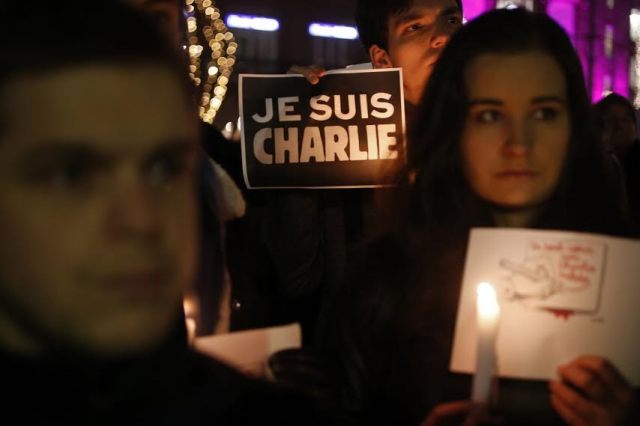 IBNA Special Report
Skopje, January 9, 2015/Independent Balkan News Agency
By Naser Pajaziti
The terrorist attack taken place at Charlie Hebdo in Paris has sparked religious debates and strong reactions in Skopje.
Macedonian Orthodox Church and Islamic Religious Community have condemned the attack on the French satirical newspaper, which led to the death of 12 people.
The Orthodox Church strongly condemned this barbaric act motivated by religious hatred.
"Those who grab their weapons and avenge so called provocations, as it was the case in Paris, cannot be tolerated. Lessons must be learned from this act. We must not use violence and express  religious hatred, but love between humanity", said archbishop Petar. According to him, all of those who use violence and weapons in search of justice or other objectives, will never be fair before God, regardless of their religion.
Head of the Islamic Religious Community in FYROM (BFIM), Sulejman Rexhepi told IBNA that their institution strongly condemns the terrorist act taken place in Paris and that religion will never be allowed to be used for criminal motives.
"Recently, we have seen a new trend around the world, where criminals want to hide behind religious motives. Based on Islamic religions, we condemn these acts", said the head of BFIM.
"These acts are far from the principles of Islam and lessons that stem from the Divine Quran. This is why we strongly condemn this phenomenon and we call on all criminals, regardless of their color, nation or religion, to be brought to justice, because we're convinced that there's no religion in this world which would justify these actions and actions similar to them", said the head of BFIM, offering his condolences to the families of the victims.
But, citizens of different communicates in FYROM also condemn the attacks and the gruesome killing of journalists and police officers in Paris.
Marjana N, a Macedonian student told IBNA that she's terrified by the event taken place in Paris and according to her, these acts bring sadness and insecurity for the future.
"I am concerned about this terrorist act, because it's unacceptable to kill people for an action, the protest against which could be done in other forms. Killing somebody in a cruel way and in the name of religion is not a solution. I believe that such people do not belong in this world and they must be punished forever. I hope that such acts will not be repeated, because the world may become a scarier place", says Marjana.
Ardian Mehmeti, an Albanian journalist told IBNA that free speech is being threatened by the extremist way and that such practice is being manifested in different forms.
"Terror in Paris was an act that scares us all, especially us, journalists, because it's clear that our life is threatened. Today, one cannot feel safe if one wants to express one's opinion through letters or illustrations. It seems that journalists are the main victims that are paying the price of all anomalies or problems in the world", says Mehmeti.
The terrorist act in Paris continues to be a topic of debate in media circles, which have reacted unanimously by demanding freedom of speech to be defended. /ibna/