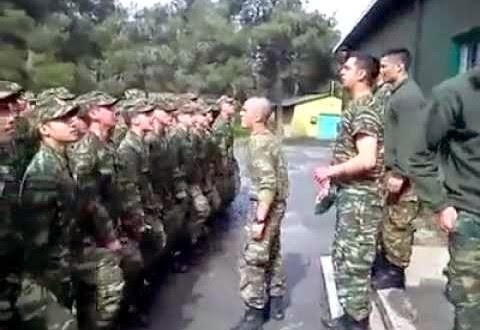 By Spiros Sideris – Athens
Turmoil has been caused by the video that was made public by the Network of Free Soldiers Spartacus, which captures screenshots of the Nazi-type education of Mountain Commandos (LOK) in Stavrovouni in Cyprus. In the video, the trainees of the Greek armed forces learn to reproduce extreme nationalist and racist slogans of hate with plenty doses of sexism.
The position of the Ministry of Defence on the video that was posted on the internet and shows commandos shouting slogans of extreme hatred and racism by encouraging instructors asks the MP of SYRIZA, Dimitris Papadimoulis.
The incident with the Rangers took place during their training in Stavrovouni in Cyprus and the video was posted on Papadimoulis' personal account in Facebook.
Indeed, the Network of Free Spartacus soldier speaks of the "penetration of the Golden Dawn in the armed forces" and asks: "The question therefore is why AGES Manolas, AGEETHA Kostarakos and MoD Avramopoulos do not act according to the law, tackling the illegal sick chants, as well as the insults and bullying of the trainers, who kick trainees while filming the entire process when it is known that the camera phone is prohibited in the Armed Forces".
So far there are no official reaction from the leadership of the Armed Forces or the Department of Defence. Similar events had seen the light of day previously again causing reactions by some politicians.
Sites belonging to the far right wing, tried to defend the Greek commandos, writing that it is commonplace around the world for the special forces to express themselves in this way.