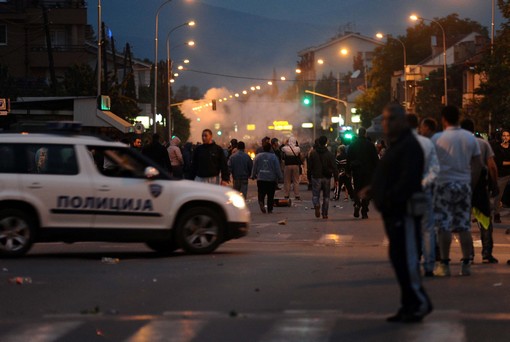 Skopje, May 21, 2014/Independent Balkan News Agency
By Naser Pajaziti
Debates and reactions have been triggered following the rising tensions over the murder of a 19 year Macedonian by an Albanian in Skopje.
Appeals for calm and responsibility to be shown by political factors in the country have been launched by analysts, diplomats, journalists and public personalities.
Professor at the University of Philosophy in Skopje, Ferid Muhic told IBNA that this event is shocking and that it's increasing cross ethnic tensions, while according to him, thousands of youngsters in FYR Macedonia live as if they didn't belong to a state or a city.
"A tragic incident in which a young man stabbed to death another one, showed that hatred against the perpetrator is more powerful than the pain about the victim. The fact that one of 'them' has killed one of 'us', has blinded everyone, because nobody sees the whole truth and nothing is common. Where nobody sees the whole truth and where nothing is common, there's no people!", said Muhic.
Professor and former head of the Helsinki Committee in Skopje, Mirjana Najcevska says that what's happening in Skopje is a result of the constant hatred and division in given circles, which had institutional support. "This situation indicates that we have a very low level of cross ethnic tolerance. This situation shows that lack of trust toward the government, police and brings to surface the delicate situation of the country", says Najcevska. According to her, in this situation which is being reined by a "sick" political situation, citizens seek a way out through violence.
Former ambassador of Albania to Skopje and expert on regional developments, Arben Cejku told IBNA that the Macedonian and Albanian leadership must appease tensions, leaving the justice system to have its say.
"Violent tensions in Skopje, which followed the death of a young Macedonian man in circumstances which must be investigated, must be immediately put under control by the state in order to leave justice to have its say through an institutional way and not on the street! Macedonian and Albanian leadership must urgently appease tensions and not leave it to religious institutions to resolve this. Those who participated a few days ago in rallies, seeking the confidence of the people, must not forget their obligations and that they're there because the people need their words and presence. Two innocent Albanian young men were killed in Gostivar (2012), but none of the Albanian families, which were torn apart by pain, didn't attack their Macedonian neighbors, but waited for justice to act", said Cejku.
According to him, Albanians in FYR Macedonia are an "orphan" people, therefore a fair and trusted judiciary process must be guaranteed for the suspect along with the freedom of movement and normal life for other Albanians, who want to live in a state where everyone is equal and respects the institutions and state.
Reactions against tensions have also come from the commune of Gorce Petrov, whereby the mayor, Sokol Mitrevski has appealed for people to remain calm and not fall a victim of different destabilizing scenarios which can have unpredictable consequences.
The murder of the young Macedonian, Angel Petrovski occurred in the evening of May 19 in the Gorce Petrov quarter. The suspect for this murder is the 19 year old Albanian, Naser Eshtrefi, from the village of Gercec, Skopje. The cause of this murder was the theft of a bike by the perpetrator of the murder, who was then followed by the victim. The physical clash between the two has led to the tragedy and this has put security in the country  to a real test. /ibna/