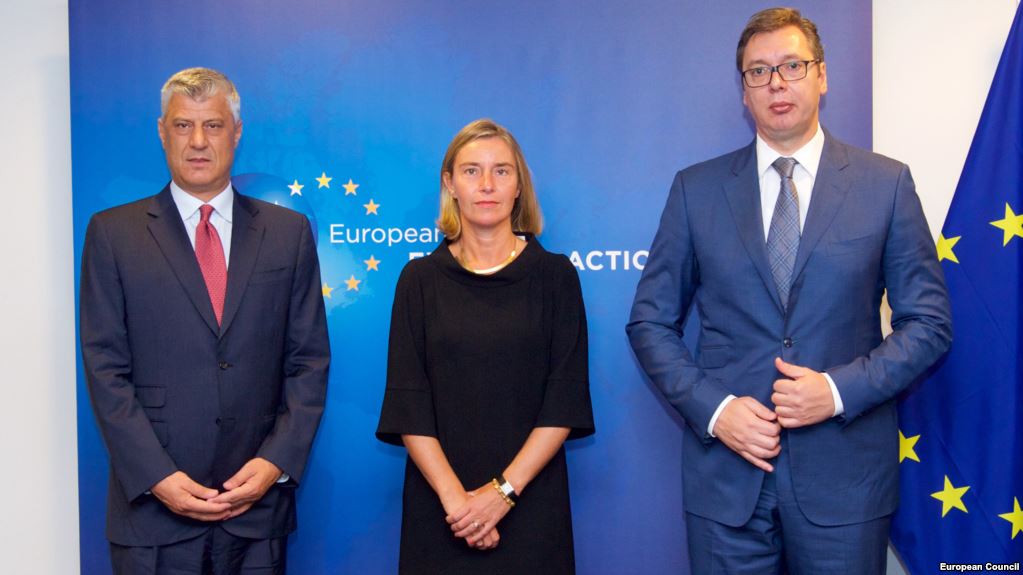 Ministar spoljnih poslova Srbije, Ivica Dačić, još jednom je požurio da izvuče srpskog predsednika Aleksandra Vučića iz nevolja, i da javno kaže ono što je "javna tajna". Tako je otkrio da je zvanični predlog Srbije za rešavanje pitanja Kosova demarkacija između Albanaca i Srba.
Dačić nije precizirao šta to znači, ali je ostavio mnogo prostora za konsenzus sa albanskim rukovodstvom na Kosovu, rekavši: "Granica će biti tamo gde se dogovorimo".
Aleksandar Vučić je podržao svog političkog saveznika, pokušavajući da održi niske tonove, pogotovo kako ne bi šokirao nacionaliste koji ga podržavaju i koji još uvek veruju da Srbija može braniti svoja suverena prava na Kosovu. "Ne znam zašto ste bili impresionirani izjavom o razgraničenju, jer ja to već dve godine govorim," rekao je Vučić novinarima. On je, međutim, zaboravio da precizira da je u svim vremenima u kojima je to ranije spominjao, naglašavao da je to njegovo lično mišljenje, a ne zvaničan stav države.
Ovo je prvi put da ideja razgraničenja postane formalni predlog, a ono što postavlja pitanje je – zašto je izabrano da to bude objavljeno sada. Takođe treba razmotriti mogućnost da Dačić nije radio autonomno, već nakon konsultacija sa Vučićem.
Da li se dešava nešto što prisiljava srpsko političko rukovodstvo da ubrza napore na pripremi javnosti za mogućnost priznavanja teritorijalno "podeljenog" Kosova kao nezavisne države? Sudeći po reakciji kosovskog premijera Ramuša Haradinaja, nešto se dešava iza kulisa. Komentarišući Dačićeve izjave o demarkaciji, Haradinaj je odbacio tu mogućnost, ističući da promena granica i podela na osnovu nacionalnih kriterijuma nije izgledna i predstavlja rizik. Potom je okrenuo strele protiv komesara EU za spoljne poslove, Federice Mogherini, optužujući je da vodi "tajni dijalog" i pozivajući je da otkrije njegov sadržaj.
Još jedan koji već neko vreme dosledno govori o tajnim pregovorima je bivši ministar spoljnih poslova Srbije, a sada lider opozicione koalicije, Savez za Srbiju (SzS), Vuk Jeremić. On tvrdi da su se kosovski predsednik Hašim Tači i Aleksandar Vučić u tajnosti sastajali najmanje tri puta u Njujorku, Parizu i Rimu, a bivši britanski premijer Toni Bler, koji je konsultant Vučiću, igra ključnu ulogu na ovim sastancima.
Juče je, nakon Dačićeve izjave o razgraničenju, Jeremić – koji kao bivši predsednik Generalne skupštine UN-a navodno ima dobre izvore informacija u diplomatskim krugovima – uzvratio tražeći od Vučića da otkrije šta se sa Tačijem dogovorio za Kosovo "ispod stola".
Haradinajeve i Jeremićeve tvrdnje možda nikada neće biti zabeležene u istoriji kao događaji koji su otvorili put za rešenje kosovskog pitanja. Ono što će definitivno biti zabeleženo je insistiranje SAD-a na rešenju do leta, politička izolacija Ramusha Haradinaja na međunarodnom nivou, nervoza Vučića koji se ponaša kao dete koje je učinilo štetu i ne zna kako to da prizna, "sumnjiva" tišina Berlina i Londona, koji su do nedavno kategorički odbacivali svaku diskusiju o promeni granice na Balkanu./IBNA