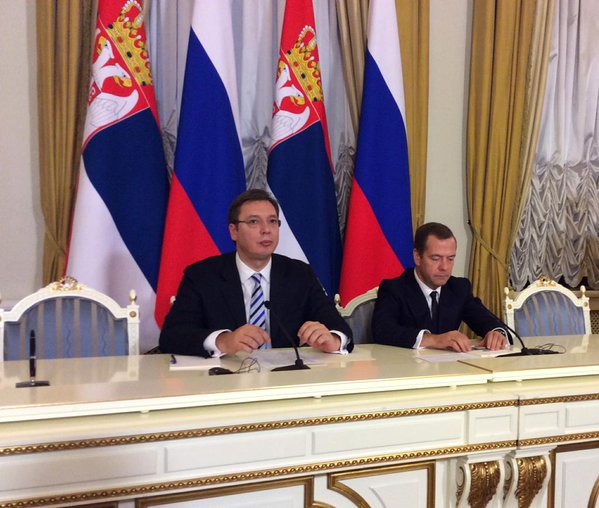 Belgrade, October 27, 2015/ Independent Balkan News Agency
By Milos Mitrovic
Serbian Prime Minister Aleksandar Vucic's three-day visit to Moscow, which started today would contribute to bilateral relations, Vucic and his Russian homologue Dmitry Medvedev stated. Serbia has proved its friendly orientation towards Russia by not imposing sanctions against Moscow, Vucic stressed, adding that friendship would be continued "on rational grounds".
Vucic and Medvedev have signed a number bilateral documents.
"We believe that we have demonstrated our sincere and friendly position towards the Russian Federation by remaining among European countries which have not imposed any sanctions against it, despite the numerous requests of the whole world", Vucic said at the joint media conference with Medvedev.
In his words, the visit will create the new impetus in cooperation between Serbia and Russia. Vucic thanked Russia for its support to Serbian opposition against Kosovo UNESCO bid and for its "assistance in Serbian interests protection in UN Security Council". He obviously alluded to Russian veto against British resolution on Srebrenica in Security Council earlier this year.
The two countries will work towards finding new gas distribution routes, premiers concluded, while Vucic promised Medvedev that Serbia would pay its debts to Gazprom "before the deadline". According to Medvedev, Serbian exports to Russia has risen for 40 percents in the first half of the year.
The energy sector is the best example of the bilateral cooperation in big infrastructural projects, Medvedev said. The joint Serbian-Russian oil company NIS should be developing as the regional leader, Medvedev added.
Serbian media paid attention to Medvedev's praise of Vucic because of his good knowledge of Russian language. On Thursday Vucic will meet Russian President Vladimir Putin.