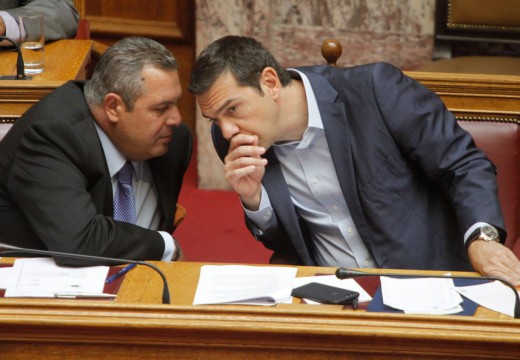 2019 will be a year of major political developments for Greece. The Prespes Agreement is expected to dominate the political dialogue in the first part of the new year. With the constitutional process in fYROMacedonia to be completed by January 15, the Greek Prime Minister is called upon to decide the time to start the parliamentary ratification process of the Agreement in Greece. Although he accepts suggestions for the process to start as soon as January, Tsipras chooses to keep his cards closed with respect to the date.
A few days after the ratification of the Agreement the NATO admission protocol to follow
In any case, the government staff sees that the necessary majority of 151 MPs is a target that can be achieved, possibly overcome, something that will be judged by the attitude of the MPs of The River, without excluding "surprises" from individual MPs of other parties. The vote of the agreement paves the way for the ratification of the accession protocol of fYROMacedonia to NATO with its new constitutional name.
According to what Tsipras revealed to reporters on New Year's Eve, this process will come a few days after the ratification of the Agreement. New Democracy, while firmly opposed to the Prespes Agreement, keeps their cards closed on the NATO admission protocol. Well-informed sources report that the main opposition's orientation is to give a positive vote, relying on the historical continuity of the party and the relationship with NATO, if a fate accompli is created after the ratification of the Agreement.
Greece like… Spain
In the same context, the days of the SYRIZA and ANEL's cohabitation in the government are numbered. The Minister of National Defence and President of ANEL has announced the withdrawal of his party from the government and the majority when the Agreement comes for ratification to the Greek Parliament. This development paves the way for a government of "tolerance", similar to the cases in Spain, with government officials stressing that there is no question of asking for a vote of confidence, while they "welcome" any proposal of mistrust by ND. Such a proposal, should it be tabled, will not have the support of ANEL, as Kammenos has clarified, but it is an important weapon of the main opposition that is called upon to decide the right time to use it, but also if such a proposal would be linked with the Prespes Agreement./ΙΒΝΑ