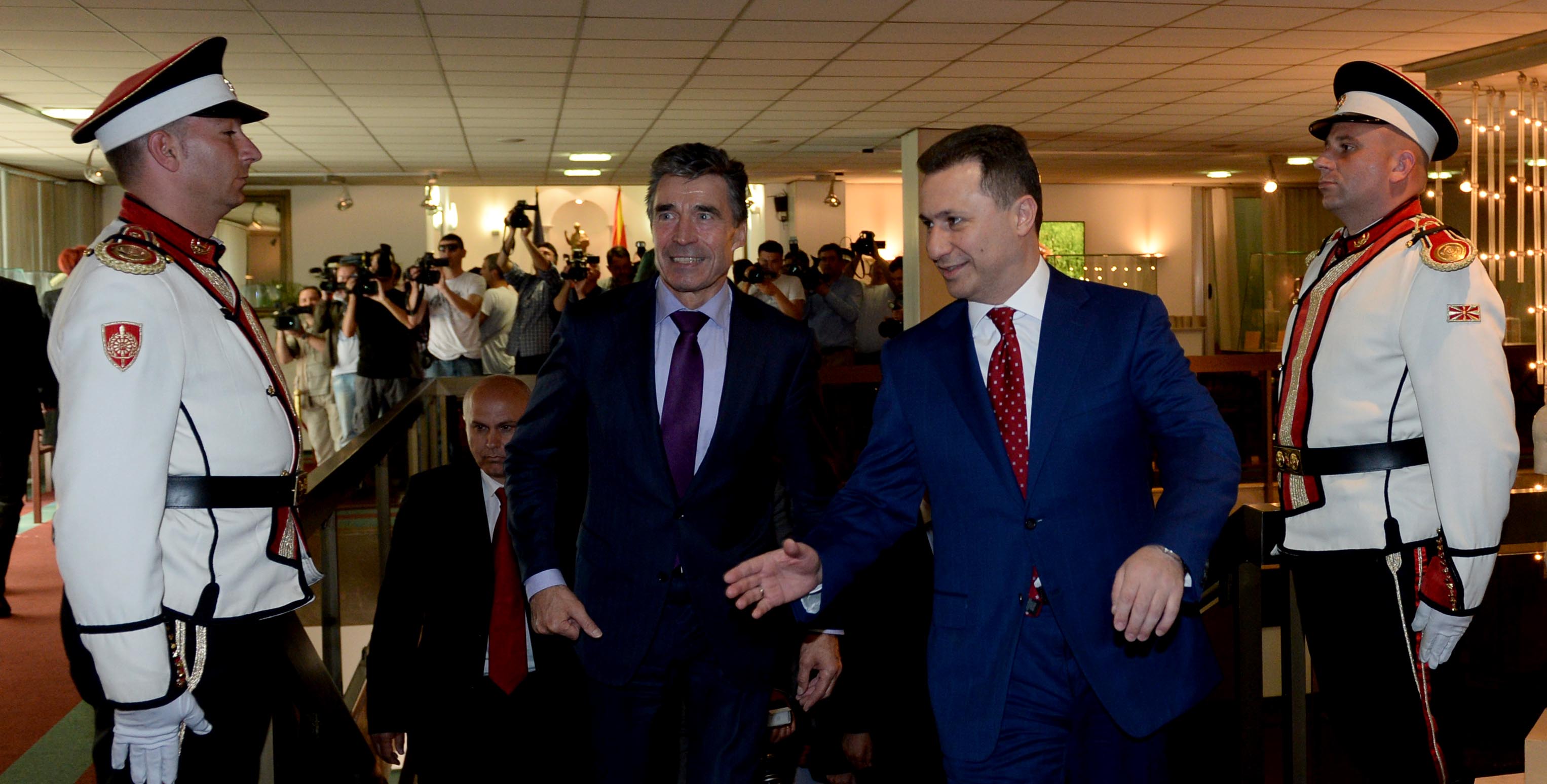 Skopje, May 22, 2014/Independent Balkan News Agency
By Naser Pajaziti
NATO Secretary General, Anders Fogh Rasmussen was on an official visit to Skopje this afternoon, where he expressed his clear stance about the accession of FYR Macedonia in the North Atlantic Alliance.
Rasmussen first met the foreign minister and defense minister, Nikola Popovski and Talat Xhaferi, after which he met with prime minister Nikola Gruevski. Rasmussen then met with the leader of the Albanian party, BDI, Ali Ahmeti.
In the news conference, Rasmussen outlined the positioning of this organization, according to which there must first be a solution to the name dispute with Greece and then to invite the country to become a NATO member.
He said that the 2008 decision of Bucharest, in spite of the circumstances, is still in force and that it reflects the stance of all member countries. Rasmussen called for a courageous leadership and determination.
"NATO integration is a free choice, but it requires constant reforms, difficult decisions and courageous leadership. NATO's doors are open, like we agreed in the Bucharest Summit in 2008. You will receive the invitation to become a NATO member once there will be a joint solution to the name dispute. This is why I encourage you to continue with your efforts in finding a solution. Time is now! I call on all political leaders to engage in an inclusive democratic dialogue. This is the best guarantee for a sustainable and prosperous future", declared Rasmussen.
On his part, prime minister Nikola Gruevski said that FYR Macedonia is committed into fulfilling the accession criteria, including the solution of the name dispute.
"We will make maximum efforts in order to find a solution for the issue that prevents the accession in the NATO. We hope that the other side will engage too. As far as the Summit is concerned, we would be happy and hope that something will happen until then, but this doesn't only depend on us, but also on Greece and its will to find a solution", said Gruevski.
After the meeting, leader of BDI, Ali Ahmeti said that he has demanded a greater engagement of the Alliance and international community for the solution of the name dispute and accession of the country in this Alliance. "I demanded a greater engagement of the international community, because this community has invested a lot in establishing democratic institutions in the country, but also for peace in the region", said Ahmeti following the meeting with NATO Secretary General.
The visit of the NATO General Secretary, Anders Fogh Rasmussen comes ahead of the Alliance summit in Cardiff in September and its agenda is expected to include the issue of enlargement. /ibna/