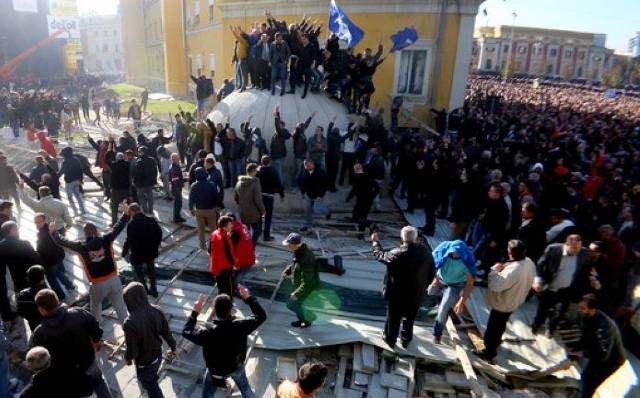 Tirana, 27 September 2016/Independent Balkan News Agency
Something has happened in Albania, which all of these years has been considered as ridiculous: a political party has been fined for violating the law during the process.
The decision was issued by the Administrative Court which upheld several points of a fine that the Municipality of Tirana had issued against the main opposition force, the Democratic Party.
The fine was issued for pollution of the environment and streets of the city during the protest held on 8 December 2015 (photo).
The municipality's fine was hefty, but the Administrative Court decided for the DP to be given a fine of just 200 thousand ALL (1500 euros).
Mayor of Tirana, Erion Veliaj says that this ruling obliges the DP to pay this fine for the pollution that its militants caused to the city of Tirana in the protest called by the heads of the DP a year ago.
According to him, this decision establishes a precedent for penalties against a political party that pollutes public spaces.
"Justice delays, but Tirana won! The city belongs to everyone, vandalism must not be tolerated", he says.
Veliaj says that the Municipality will also appeal the other points of the fine, following every legal way, "until the DP pays the citizens every penny for the destruction and vandalism caused to the city of Tirana in this protest".
As far as the ruling and comments issued by Mr. Veliaj are concerned, the DP says that what's important is the fact that the Administrative Court abrogated the 7 acts of Erion Veliaj's fine, where the amount to be paid was 172 million ALL or 130 thousand euros.
For the DP, "the damages" are in the mind of the mayor of Tirana and they have never occurred. /balkaneu.com/