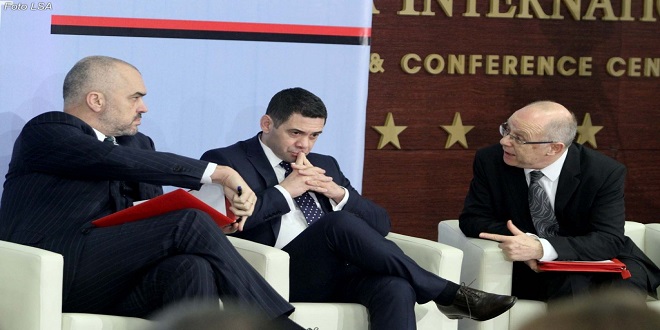 Tirana, 16 February 2016/Independent Balkan News Agency
Prime Minister Edi Rama has announced changes in his cabinet on Tuesday. The Prime Minister's office said that the current minister of Finance, Shkelqim Cani was relieved from duty and was replaced by the Minister of Economy, Tourism, Trade and Enterprise, Arben Ahmetaj.
According to the statement, Mr. Rama thanked Mr. Cani for his professional engagement and his integrity in performing one of the most difficult tasks of this term in office.
On his part, Mr. Cani thanked the PM for his faith and close cooperation in successfully overcoming the difficult situation that the government found two and a half years ago and assured him for a full commitment as a professional and an MP.
Meanwhile, Mrs. Ilva Ikonomi, current deputy minister of Health, will replace Mr. Ahmetaj as minister of Economy, Tourism, Trade and Enterprise.
This is the third change in Rama's cabinet since it was created nearly two and a half years ago. Initially, it was Mrs. Ermonela Felaj who replaced Mr. Ilirjan Celibashi at the post of the minister for Relations with Parliament and later with Mr. Ylli Manjani who replaced Mr. Nasip Naco as minister of Justice. President Bujar Nishani is expected to decree these changes. /ibna/